User Manual Danby DAR170A2WDD 17 Cu ft Apartment Size Refrigerator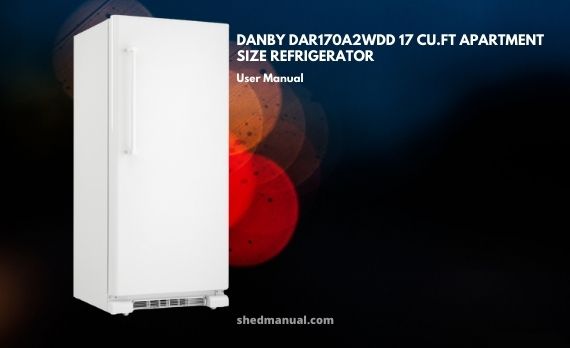 With the User Manual – PDF User Guide Danby DAR170A2WDD 17 Cu. ft Apartment Size Refrigerator, you will have no trouble using this refrigerator.
This is a small snippet from the owner's manual Danby DAR170A2WDD 17
Installation instructions
Do not store explosive substances such as aerosol cans with a fl ammable propellant in this appliance.
Grounding Instructions
This appliance must be grounded. Grounding reduces the risk of electrical shock by providing an escape wire for the electrical current.
This appliance has a cord that has a grounding wire with a 3-prong plug. The power cord must be plugged into an outlet that is properly grounded. If the outlet is a 2-prong wall outlet, it must be replaced with a properly grounded 3-prong wall outlet. The serial rating plate indicates the voltage and frequency the appliance is designed for.
WARNING – Improper use of the grounding plug can result in a risk of electric shock. Consult a qualify ed electrician or service agent if the grounding instructions are not completely understood, or if doubt exists as to whether the appliance is properly grounded.
Do not connect your appliance to extension cords or together with another appliance in the same wall outlet. Do not splice the power cord. Do not under any circumstances cut or remove the third ground prong from the power cord. Do not use extension cords or ungrounded (two prongs) adapters.
If the power supply cord is damaged, it must be replaced by the manufacturer, its service agent or similar qualify ed person in order to avoid hazard.
Power Failure
Most power failures are corrected within a few hours and should not affect the temperature of your appliance if you minimize the number of times the door is opened. If the power is going to be off for a longer period of time, take the proper steps to protect your contents. Note: Wait 3 to 5 minutes before attempting to restart the refrigerator if operation has been interrupted.
Defrost
This unit is equipped with an automatic defrost function and does not require manual defrosting. Defrost water from the appliance is channelled into a drip tray located above the compressor. Heat transfer from the compressor causes the defrost water to evaporate.
Energy Saving Tip
The appliance should be located in the coolest area of the room, away from heat producing appliances, and out of direct sunlight. Do not overload the unit or block any ventilation openings.
For the full version, please download the owner manual pdf Danby DAR170A2WDD 17 Cu ft Apartment Size Refrigerator below.