Manual Guide LG LFXS28968S Refrigerator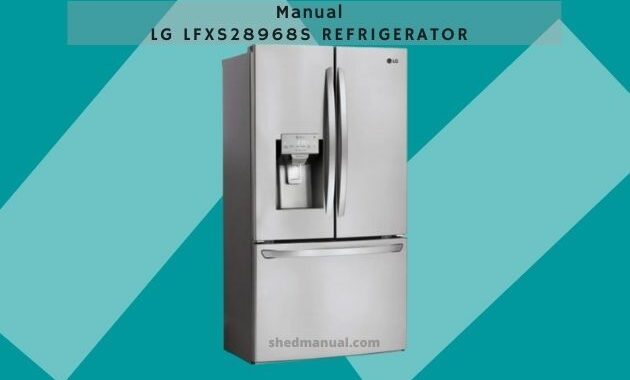 Please refer to the LG LFXS28968S Refrigerator manual. This will tell you how to use the refrigerator properly.
There are many features that you should learn from this LG LFXS28968S refrigerator. Many features will make your food last longer and your drink fresher.
Not everyone knows the various features of the refrigerator. This is why the LG LFXS28968S manual is here to help you understand this ultimate refrigerator.
With credible user-guided information, you can find out the useful functions of the LG LFXS28968S refrigerator. Good for storing food, storing drinks, even for making ice cubes.
To know more about the user manual, you can read the snippet we provide below.
Table of contents Manual LG LFXS28968S
PRODUCT FEATURES
SAFETY INSTRUCTIONS
IMPORTANT SAFETY INSTRUCTIONS
PRODUCT SPECIFICATIONS
PRODUCT OVERVIEW
Exterior
Interior
INSTALLATION
Installation Overview
Unpacking the Refrigerator
Choosing the Proper Location
Removing/Assembling Handles
Removing/Assembling the Doors and Drawers
Connecting the Water Line
Leveling and Door Alignment
Turning on the Power
OPERATION
Before Use
Control Panel
Ice and Water Dispenser
Ice Compartment
Automatic Ice Maker
Storing Food
Humidity Controlled Crispers (On Some Models)
Glide N Serve
Durabase®
Smart Grid Function
Smart Diagnosis™ Function
MAINTENANCE
Cleaning
Replacing the Fresh Air Filter
Replacing the Water Filter
TROUBLESHOOTING
This product is not to be used for special purposes such as the storage of medicine or test materials or for use on ships, etc.
DO NOT allow children to climb, stand, or hang on the refrigerator doors or on the shelves in the refrigerator. They could damage the refrigerator and seriously injure themselves.
Do not allow children to climb into the refrigerator. They could be trapped and suffocated.
Children should be supervised to ensure that they do not play with the refrigerator.
Keep fingers out of pinch point areas; clearances between the doors and cabinets are necessarily small. Be careful closing doors when children are nearby.
Do not touch frozen food or the metal parts in the freezer compartment with wet or damp hands. Doing so may cause frostbite.
Do not refreeze frozen food that has thawed completely. Doing so may result in a serious health hazard.
Do not use an adapter plug or plug the power plug into a multi-outlet extension cord.
Do not use a cord that shows cracks or abrasion damage along its length or at either the plug or connector end.
Immediately have all power cords that have become frayed or otherwise damaged repaired or replaced by qualified service personnel.
The above is an excerpt from the user manual, but more detailed information can be obtained from the pdf user guide attached below. Please download the LG LFXS28968S user manual by clicking the button provided.