User Manual Danby DAC080BEUWDB 8,000 Btu Window Air Conditioner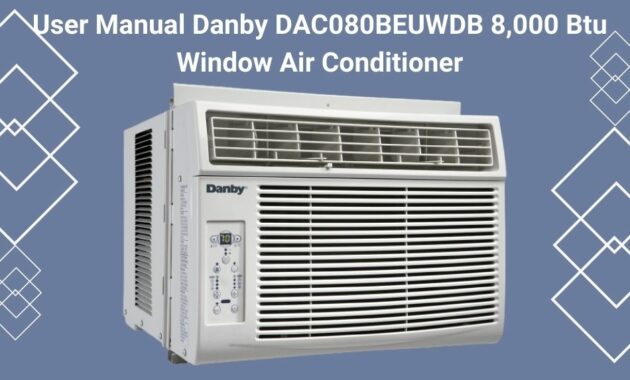 User Manual Danby DAC080BEUWDB 8,000 Btu Window Air Conditioner is a manual that will help when installing, the contents of the manual also include troubleshooting when an error occurs.
Table Of Contents
Air Conditioner
Owner's Use and Care Guide
Welcome
Important Safety Information
Features
Installation Instructions
Operation Instructions
Care and Maintenance
Troubleshooting
Warranty
Care And Maintenance
NOTE: In order to avoid electric shock, please turn off the A/C and unplug the plug before maintenance or repair.
Cleaning
When cleaning the air conditioner be sure to disconnect the power cord from the electrical outlet
DO NOT use gasoline, benzene, thinner, or any other chemicals to clean this unit, as these substances may cause damage to the fi nish and deformation of plastic parts.
Never attempt to clean the unit by pouring water directly over any of the surface areas, as this will cause deterioration of electrical components and wiring insulation.
Air Filter
If the air filter becomes clogged with dust, air flow is obstructed and reduces efficiency. The air filter should be cleaned every 2 weeks.
Air Filter Removal:
The air filter is located behind the air intake front grill. To remove the air filter, grasp the filter tab on the right side of the grill and slide it out to the right. If your air intake front grill has 2 indents, put the grill forward and remove the air filter.
To reinstall the air filter, reverse the above procedures. The air filter must be vacuumed or washed by hand in warm water. Dry thoroughly before re installing.
Cleaning Air Filter:
Use a vacuum cleaner with a soft brush attachment.
Wash the filter in lukewarm water below 40°C (104°F). To get best results, wash with soapy water or a neutral cleaning agent.
Rinse the filter with clean water and dry thoroughly before re-installing.
Download Manual Pdf
The above is a small excerpt from the Danby DAC080BEUWDB 8,000 Btu Window Air Conditioner user manual. For the full version, please download the pdf below.