Manual Hoover FH50700US PowerDash Pet Compact Carpet Cleaner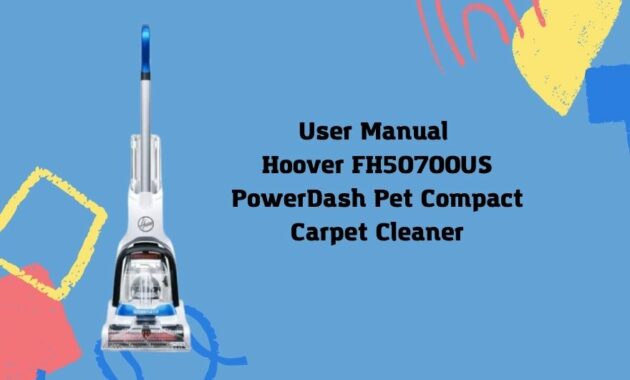 User Manual Hoover FH50700US PowerDash Pet Compact Carpet Cleaner, help you clean the carpet perfectly, free from dust and mites. The house becomes cleaner and healthier.
Contents of the manual
Safety Instructions
Carton Contents
Product Guide
How to Assemble Your PowerDash
Before You Begin Cleaning
Getting Started with your PowerDash
Maintenance
Hoover Cleaning Solution Guide
Troubleshooting
Warranty
French
Spanish
Grounding Instructions:
This appliance must be grounded. If it should malfunction or breakdown, grounding provides a path of least resistance for electric current to reduce the risk of electric shock. This appliance is equipped with a cord having an equipment-grounding conductor (C) and grounding plug (A). The plug must be inserted into an appropriate outlet (B) that is properly installed and grounded in accordance with all local codes and ordinances.
To Reduce the Risk of Damage:
Avoid picking up hard, sharp objects with this product, as they may cause damage.
Store appropriately indoors in a dry place. Do not expose machine to freezing temperatures.
Do not use sharp objects to clean out hose as they can cause damage.
To assist in reducing drying time, be certain the area is well ventilated when using detergents and other cleaners with this machine.
To help prevent matting and recoiling, avoid contact with carpets until they are dry. Keep children and pets away from carpets until they are completely dry.
Do not store extractor with solution in tanks.
With brushes and brush roll on, do not allow cleaner to sit in one location for an extended period of time, as damage to the floor can result.
Do not use this extractor on hard floors. Using this machine on hard floors may scratch or damage your floor.
Water will drip from the brushes and underside of the product after use and may puddle. To avoid damage to wood and laminate flooring and to avoid potential slip hazard, after use (a) do not leave the product on wood and laminate surfaces and remove to a hard surface and (b) place unit on absorbent material
Download User Manual PDF
The above is a small excerpt from the Hoover FH50700US PowerDash Pet Compact Carpet Cleaner user manual. For the full version, please download the pdf below.