User Manual Kenmore 41262 4.5cu.ft. Front Load Washer Sears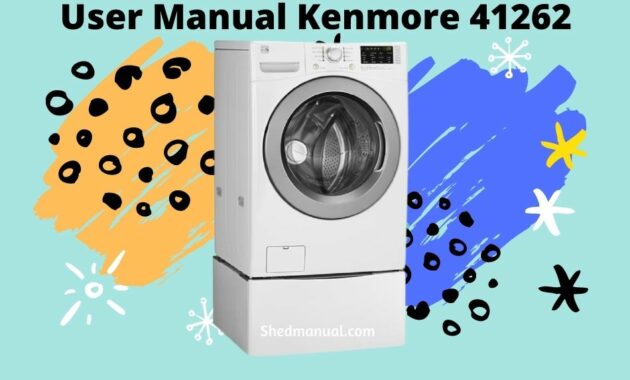 User Manual Kenmore 41262 4.5cu.ft. Sears Front Load Washer will help wash clothes clean and perfect. Please try to read the manual that we have attached carefully.
TABLE OF CONTENTS
SAFETY MESSAGES
IMPORTANT SAFETY INSTRUCTIONS
GROUNDING REQUIREMENTS
FEATURES AND BENEFITS
Key Parts and Components
Included Accessories
Optional Accessories
INSTALLATION REQUIREMENTS
Key Dimensions and Speci cations
Choose the Proper Location
Flooring
Clearances.
INSTALLATION INSTRUCTIONS
Unpacking and Removing Shipping Bolts
Connecting the Water Lines
Connecting the Drain Hose
Connecting to the Power Supply
Levelling the Washer
Installation of Non-Skid Pads (optional)
HOW TO USE
Control Panel Features
Operating the Washer
Cycle Guide
Sorting Wash Loads
About the Dispenser Drawer
Detergent and Dispenser Use
Time and Status Display Cycle Modi er Buttons
Options B.uttons.
Special Function
CARE AND CLEANING
Regular Cleaning
Maintenance
Cleaning the Water Inlet Filters
Cleaning the Drain Pump Filter
DIAGNOSTICS
Using Diagnostics
TROUBLESHOOTING GUIDE
Normal Sounds You May Hear
Before Calling for Service
WARRANTY
To reduce the risk of ore, electric shock, or injury to persons when using this appliance, follow basic precautions, including the following.
Unplug the washer before cleaning to avoid the risk of electric shock.
Never use harsh chemicals, abrasive cleaners, or solvents to clean the washer. They will damage the onish.  
Do not put oily or greasy rags or clothing on top of the washer. These substances give oç vapours that could ignite the materials.  
Do not wash items that are soiled with vegetable or cooking oil. These items may contain some oil after laundering and may catch ore.  
Disconnect this appliance from the power supply before attempting any user maintenance. Turning the controls to the OFF position does not disconnect this appliance from the power supply. Failure to follow this.
Download User Manual Kenmore 41262
The above is a small excerpt from the Kenmore 41262 4.5cu.ft. Front Load Washer Sears user manual. For the full version, please download the pdf below.