User Manual LG Electronics LGL57BL Rebel 2 LTE GSM TracFone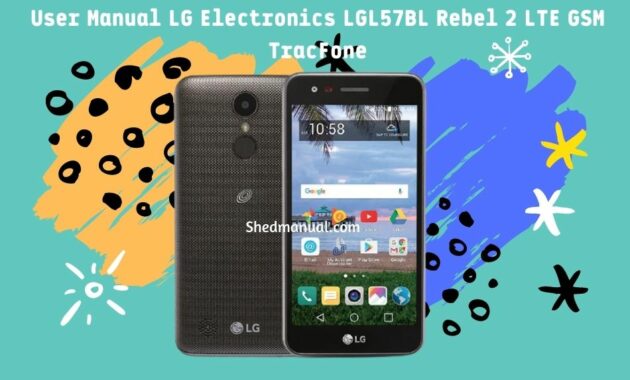 User Manual and User Guide LG Electronics LGL57BL Rebel 2 LTE GSM TracFone solves the problem if you run into trouble.
Table of contents
Features you will love
quick share
QuickMemo+
KnockON
Knock Code
Do not disturb
Basics
Accessories
Device layout
Turning Your Device On and Off
Installing the battery
Charging the battery
Inserting a memory card
Removing the memory card
Touch screen tips
Tap or touch
Touch and hold
Drag
Swipe or slide
Double-tap
Pinch-to-Zoom
Google account setup
Creating your Google account
Signing into your Google account
Locking and unlocking the device
Changing the screen lock method
Smart Lock
Home screen
Getting to Know the Home Screen
Returning to recently-used applications
Customizing the Home screen
Using folders from the Home screen
Notifications panel
Capturing a screenshot
On-screen keyboard
Using the keypad and entering text
Entering special characters
Transferring data between a PC and the
device
Transferring data using USB connection
Apps
Installing or uninstalling apps
To open the Play Store app
To open a screen with details about an
app
To uninstall applications
Calls
Making a call
Calling your contacts
Answering and rejecting a call
Making a second call
Viewing your call logs
Change your call settings
Contacts
Searching for a contact
Adding a new contact
Favorites contacts
Creating a group
Messaging
Sending a message
Conversation view
Changing your messaging settings
Camera
Taking a photo
Viewfinder options
Interval shot
Burst shot
Gesture shot
Multi-point Auto-focus
Once you have taken a photo
Recording a video
After recording a video
Gallery
Viewing pictures
Editing photos
Setting wallpaper
Zooming in and out
Playing a video
Deleting photos/videos
Email
Adding an account
Working with account folders
Composing and sending email
Changing the Email app settings
Deleting an email account
Music
Playing a song
Music player options
FM Radio
Clock
Alarm
World clock
Timer
Stopwatch
Calculator
Calendar
Voice Recorder
Recording a sound or voice
Downloads
Google apps
Settings
Access the Settings menu
Wireless Networks
Airplane mode
Wi-Fi
Bluetooth
Mobile data
Call
Tethering
Mobile networks
VPN
Emergency alerts
Printing
Device
So
Turning Your Device on and Off
Turning your device on Press and hold the Power/Lock Key on the back of the device for a couple of seconds until the screen turns on. Turning your device off 1 Press and hold the Power/Lock Key on the back of the device until the Device options menu appears. 2 Tap Power off in the Device options menu. 3 Tap POWER OFF to confirm that you want to turn off the device.
Installing the battery
Before you can start exploring your new device, you'll need to set it up. 1 To remove the back cover, hold the device firmly in one hand. With your other hand, lift off the back cover with your thumbnail as shown in the figure below.
Insert the battery
To replace the cover onto the device, align the back cover over the battery compartment and press it down until it clicks into place.
Installing or uninstalling apps
Play Store allows you to browse and search for free and paid application.
To open a screen with details about an app
At any time while browsing in Play Store, tap an app to open its details screen. The App details screen includes a description, ratings, comments, and related information about the app. From this screen, you can download, install, uninstall, rate the app, and more.
Download User Manual LG Electronics LGL57BL Rebel 2 LTE GSM TracFone
The above is a small excerpt from LG Electronics LGL57BL Rebel 2 LTE GSM TracFone user manual. For the full version, please download the pdf below.