User Manual TCL 43″ CLASS 4-SERIES 4K UHD HDR ROKU SMART TV – 43S421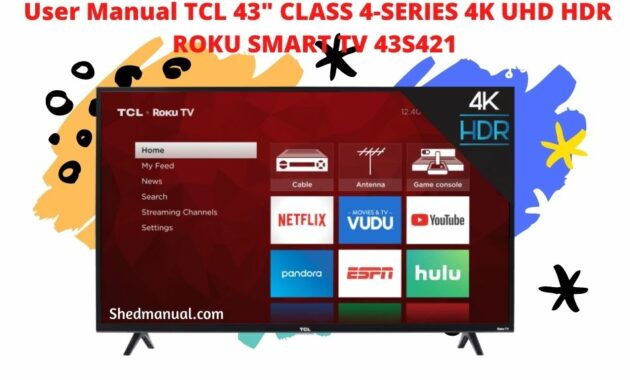 User Manual – User Guide PDF TCL 43″ CLASS 4-SERIES 4K UHD HDR ROKU SMART TV 43S421 help use the tv properly, and avoid damage. Troubleshooting is available when an error occurs.
Get the most out of your new TV
Follow these simple steps to get the most out of your new TV.
1. Connect to the Internet
• It's simple, it's easy, and it will unlock a world of entertainment. All you need is a network connection. There are hundreds of free streaming channels, paid subscription services like Netflix and Spotify, and convenient ways to rent or buy a favourited film or show with, for example, Google Play.
2. Pick your favourite streaming channels
• Find the entertainment you love. From the latest blockbuster movies to your favourite TV shows, with tons of live sports, a broad selection of music streaming channels, popular programming in a dozen international languages, 24×7 live news and so much more, your new TCL Roku TV has your sweet spot. A paid subscription or other payments may be required for some channels.
3. Find Antenna TV shows in the Smart Guide
• Only in the United States, use the Smart Guide to see not only what's on TV right now, but what was on up to a week ago, and what will be on in the coming two weeks. And for many over-the-air programs, if you start watching the program after it is already in progress, or you see something you missed in the Smart Guide, you can use More Ways to Watch to find streaming channels where you can see the show from the beginning, find other episodes, or entire seasons of the show, if applicable.
4. Use Roku's Smart TV experience to discover More Ways to Watch on other inputs
• Only in the United States, when watching programs from a cable box, Blu- ray player, or other source connected to the HDMI® or AV inputs, keep an eye out for a notification of streaming channels that offer the program you're currently watching and, if applicable, other episodes, the entire series, or other programs with similar themes.
5. Personalize your Home screen
• Put your favourite streaming channels, and TV inputs front-and-centre on the Home screen. No more flipping through inputs or wading through complicated menus. You can even customize the names of each input and move tiles around so your most-often used devices and streaming channels are only a click away.
6. Search for your favourite movie, TV show, actor, or director
• Once you're connected to the internet, you can easily search across top streaming channels and Antenna TV channels. Search by movie or TV show title, actor or director—all from one place. Search by typing words or phrases using the on-screen keyboard or on your mobile device or, only in the United States, speak words or phrases in a conversational tone using Voice Search. Some channels and content require payment.
7. Pause live TV
• Pause, resume, fast forward, and rewind TV shows. Simply connect your own USB drive with 16GB or bigger capacity to the TV and pause live TV for up to 90 minutes. Note: Live TV Pause is available on digital TV shows received on the Antenna TV input, and only when the TV is linked to a valid Roku account.
8. Control your TV with voice commands
• Only in the United States, use your Roku Voice Remote (select models), Enhanced Voice Remote (select models), or the free Roku mobile app to control your TCL Roku TV. Use conversational voice commands to search for programs by title, actor, director, or genre. Also use voice commands to launch streaming channels, switch inputs, change Antenna TV channels, or open the Smart Guide.
9. Send your personal media to the big screen
• Send personal photos, videos, and music from your compatible smartphone or tablet to the TV screen in just a few taps. Plus, with certain channels, such as Netflix and YouTube, you can send movies, shows, sport highlights, and more directly to your TV.
10. Follow movies coming soon
• Use My Feed to choose from and follow a list of upcoming movies, and then watch for alerts each time one of your followed movies becomes available or changes price.
11. Take charge with a smartphone or tablet
• Control your TV with the included remote or from your compatible smartphone or tablet with the free mobile app for iOS® and AndroidTM mobile devices*. Browse channels, view My Feed, listen to audio from Antenna TV and streaming channels. Search more easily using your mobile device's keyboard and, only in the United States, Voice Search.
• Mirror your compatible smartphone or tablet on your TV. Share videos, photos, web pages, and more from compatible devices.
12. Connect your TCL Roku TV to networks found in hotels and college dorms
• You can temporarily link the TV to your smartphone or table to agree to any terms, enter codes, or provide required information before you can get Internet access. Note: Using your TCL Roku TV on a restricted public network requires wireless availability and use of your network-connected smartphone, tablet, or computer to authenticate access to your account. You must use your TCL Roku TV remote to initiate the connection process. Streaming content might be limited due to your geographic location or because of restrictions imposed by the network host.
Download User Manual TCL 43″ CLASS 4-SERIES 4K UHD HDR ROKU SMART TV 43S421
The above is a small excerpt from the TCL 43″ CLASS 4-SERIES 4K UHD HDR ROKU SMART TV 43S421 user manual. For the full version, please download the pdf below.