Manual Whirlpool WDT750SAHZ 24 inch Stainless Steel Dishwasher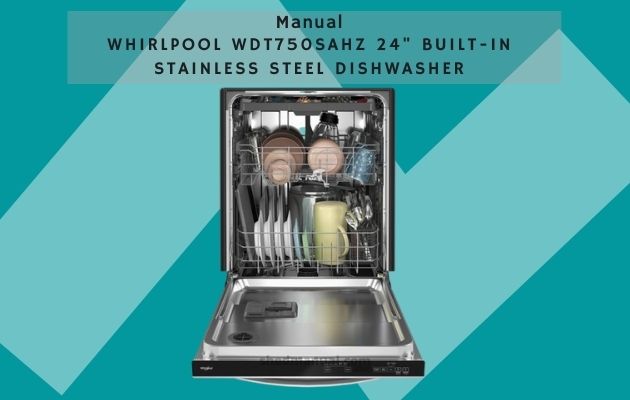 The User Manual Whirlpool WDT750SAHZ is important information that will help you operate your dishwasher properly. Many errors occur because the users are not able to read the user manual.
Dishwasher damage can occur if you make the wrong settings. For us reading the user manual is mandatory before starting the Whirlpool WDT750SAHZ dishwasher. The user manual will provide information on how to use the dishwasher, starting from how to install it, how to connect the power, and how to solve problems if an error occurs in the machine.
We're going to give you a little snippet of the Whirlpool WDT750SAHZ user manual. Please read carefully so you can use your new dishwasher properly.
Table of contents User Manual Whirlpool WDT750SAHZ 24 Inch
Important Safety Instructions
Grounding Instructions
Important Safety Instructions Warning
Operating Your Dishwasher
Cycle Guide
Dishwasher Care
Troubleshooting
Accessories
Important Safety Instructions
To reduce the risk of injury, do not allow children to play in
When loading items to be washed: on the dishwasher.
Locate sharp items so that they are not likely to damage the door seal; and
Load sharp knives with the handles up to reduce the risk of cut-type injuries.
Do not wash plastic items unless they are marked"dishwasher safe" or the equivalent. For plastic items not so marked, check the manufacturer's recommendations.
Under certain conditions, hydrogen gas may be produced in a hot water system that has not been used for two weeks or more.
Hydrogen Gas Is Explosive.
If the hot water system has not been used for such a period, before using the dishwasher turn on all hot water faucets and let the water flow from each for several minutes. This will release any accumulated hydrogen gas. As the gas is flammable, do not smoke or use an open flame during this time.
Do not touch the heating element during or immediately after
Remove the door or lid to the washing compartment when removing an old dishwasher from service or
Do not operate the dishwasher unless all enclosure panels are discarding it. properly in place.
IMPORTANT: To avoid damage to the dishwasher, do not operate your dishwasher without filters properly installed. Be sure the lower filter is securely in place and the upper filter assembly is locked into place. If the upper assembly turns freely, it is not locked into place.
Download Manual Whirlpool WDT750SAHZ 24 Inch
The above is an excerpt from the contents of the Whirlpool WDT750SAHZ 24 Inch user manual. To read in more detail, you can download the Whirlpool WDT750SAHZ manual pdf document that we provide below. Please click the download button and you will get this important document for free.