GE General Electric GFW450SSMWW User Manual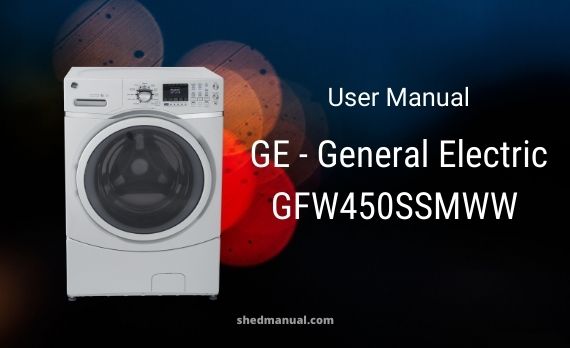 This user manual covers several models namely GFW 1705 / GFWS1700 / GFW 1600 / GFW 1300/ GFW 1200 / GFWN1100 / GFW450 / GFW430/ GFW400.
USING THE WASHER – Getting started
Power: Press to "wake up" the display. If the display is active, press to put the washer into standby mode.
NOTE: Pressing Power does not disconnect the appliance from the power supply.
Start/Pause-Add A Garment: Press to start a wash cycle. If the washer is running, pressing it once will pause the washer and unlock the door. It will take a few seconds for the door to unlock after pressing Pause. Press again to restart the wash cycle.
NOTE: If the washer is paused and the cycle is not restarted within 15 minutes, the current wash cycle will be cancelled. In some cycles the washer will drain first, then unlock the door when it is paused. The washer performs automatic system checks after pressing the Start button. Water will flow in 45 seconds or less. You may hear the door lock and unlock before water flows; this is normal.
Wash Cycles
The wash cycles are optimized for specific types of wash loads. The chart below will help you match the items to be washed with the best wash cycle settings. For optimal performance, select the cycle that most closely matches the items being washed.
Selections and options shown in bold are the suggested settings for that cycle. *Some cycles and options may not be available on some models.
Add Steam (on some models)
Add Steam adds steam into the washer to assist with loosening stains on the Whites, Colors/Normal, Towels/Sheets, Active Wear, Bulky Items or Sanitize cycles. To use:
Turn power ON and select a wash cycle.
Select the Add Steam button to activate steam.
Press the Start/Pause button.
The above is a small excerpt from the GE General Electric GFW450SSMWW user manual. For the full version, please download the pdf below.