Whirlpool WTW5057LW Laundry Manual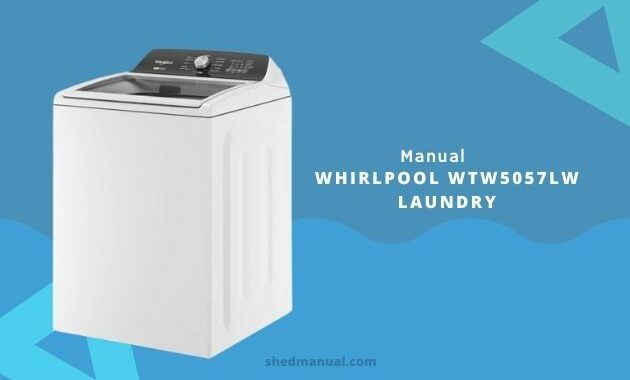 There's always fun when buying new things, especially the Whirlpool WTW5057LW Laundry. But so that you can use this laundry machine well, then you have to find important information about this laundry machine.
You don't need to be confused looking for information, because it has provided a Whirlpool WTW5057LW Laundry manual. To be able to explain easily, we provide a small excerpt from the pdf manual. Please see the article below.
Whirlpool WTW5057LW Laundry User Guide
Wash.
Based on the load size and the Water Level setting, the washer will fill to the appropriate water level.
During the filling process, certain cycles may agitate to aid cleaning. You'll hear the agitator spin for a few seconds before a brief halt.
When the wash cycle starts, you'll see the agitator speed rise.
While the washer conducts different wash activities, the motor noises may alter at different points of the wash cycle.
Rinse
A spray rinse is used during some cycles, which adds water to the tub as the basket spins.
When you choose the fabric softener option, the washer will make noises similar to the wash cycle as it rinses and transfers the load.
While filling the basket, you may hear the engine momentarily switch on (short hum).
Spin
Depending on the cycle and spin speed set, the washer spins the load at varying rates to ensure appropriate water removal.
Complete
This light will turn on once the cycle is finished. For optimal outcomes, remove the burden as soon as possible.
Lid Locked
Higher spin speeds are possible thanks to the Lid Locked function. The lid is locked and cannot be opened without interrupting the cycle while the Lid Locked light is on. The lid may be opened when the light is turned off.
Press START/PAUSE/Unlock Lid to unlock the lid once it has been locked. When the washer stops moving, the lid will release.
If the load was rotating at a high rate, this may take several minutes. To restart the cycle, press START/PAUSE/Unlock Lid one more.
One Rinse With Fabric Softener
When applying fabric softener during a cycle, this option must be chosen.
It guarantees that fabric softener is added to the rinse at the optimum moment for equitable distribution.
RINSES WITH FABRIC SOFTENER TWICE Both the Fabric Softener and the Two Rinses choices are enabled when you select this option.
Above is a small excerpt from the Whirlpool WTW5057LW pdf manual. If you have not found the information you are looking for, please download the pdf document using the button below.