Use Manual TCL 32S301 32″ Class S3-series HD TV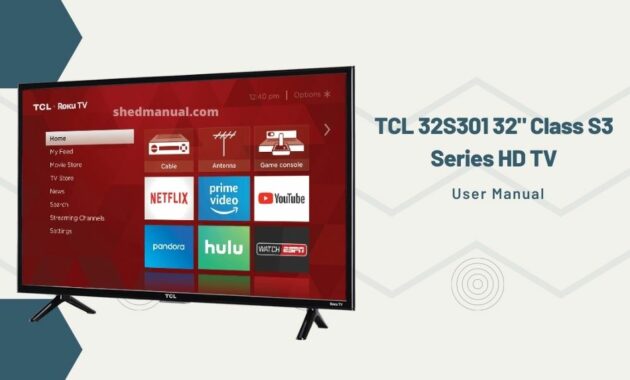 User Manual and Guide TCL 32S301 32″ Class S3-series HD Led Roku Smart Tv will help during installation and troubleshooting.
Here is a small excerpt from the contents of the manual book.
Contents
Welcome
The new standard in Smart TVs
Get the most out of your new TV
Connections and setup
Before initial setup
Protect against power surges
Safety information
Avoid audio interference
Avoid direct light
Set up your new TV
What's in the box
To mount on a wall
To use the stand
Connections and setup
Connecting an antenna, cable, or satellite box
Connecting external equipment with a composite AV video cable
Connecting external equipment with an HDMI® cable
Connecting headphones or analog sound bar to the TV
Connecting an AV receiver or digital sound bar
Preparing for Internet connectivity
AC power
Roku remote batteries
TCL Roku TV remote
Panel buttons
Single button
Three buttons
Game-pad style joystick
Four buttons
Five buttons (with mute)
Five buttons (without mute)
Seven buttons
Guided Setup
Starting Guided Setup
Completing Guided Setup
Safety information
Prevent TV from overheating by placing in an area with good ventilation.
Do not block ventilation holes on the TV. Position the TV so air can circulate freely on all sides.
Do not stack objects on the TV.
If you place the TV on a stand, make sure you allow adequate ventilation.
If you connect an audio receiver or amplifier to the TV, place it on the top shelf so the heated air will not overheat the TV.
Set up your new TV
Open the box and remove the TV and other items. Be careful, the TV is heavy! We strongly recommend that two people unbox the TV.
Be sure to check all the foam packaging as the stands from some TV's are stored in the foam for protection.
The above is a small excerpt from the TCL 32S301 32″ Class S3-series HD TV user manual. For the full version, please download the pdf below.