User Manual General Electric 317B6641P001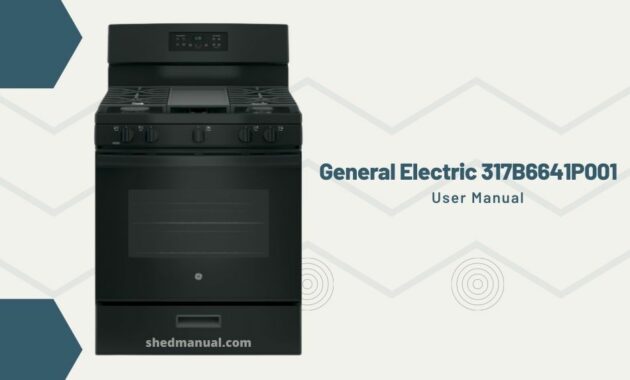 The GE – General Electric 317B6641P001 User Manual will help you make the best quality cakes and breads, and solve problems if things go wrong.
Below is a small snippet of the user manual included in the pdf.
Contents
Safety Information
Anti-Tip Device
Safety Precautions
Oven
Self-Cleaning Oven
Surface Units
Operating Instructions
Using the Surface Units
Using the Oven
Using CircuWave™
Using the Clock and Timer
Timed Baking and Roasting
Oven Thermostat
Using the Self-Cleaning
Oven
Care and Cleaning
Installation Instructions
Before You Begin
Preparing the Opening
Flooring
Electrical Connection
Anti-Tip Bracket
Levelling
Troubleshooting Tips
Before You Call for Service
Customer Service
Product Registration
Warranty
Service Telephone Numbers.
Self-cleaning Oven
Do not clean the door gasket. The door gasket is essential for a good seal. Care should be taken not to rub, damage or move the gasket.
Clean only parts listed in this Owner's Manual.
Do not use oven cleaners on self-clean models. No commercial oven cleaner or oven liner protective coating of any kind should be used in or around any part of the oven. Residue from oven cleaners will damage the inside of the oven when the self-clean cycle is used.
Before self-cleaning the oven, remove the broiler pan, grid and other cookware.
Be sure to wipe up excess spillage before starting the self-cleaning operation.
If the self-cleaning mode malfunctions, turn the oven off and disconnect the power supply. Has it serviced by a qualified technician?
Care and cleaning of the range.
Oven Interior
With proper care, the porcelain enamel finish on the inside of the oven—top, bottom, sides, back and inside of the door—will stay new-looking for years.
Let the range cool before cleaning. We recommend that you wear rubber gloves when cleaning the range.
Soap and water will normally do the job. Heavy spattering or spill overs may require cleaning with a mild abrasive cleaner. Soapy, wet metal pads may also be used.
Do not allow food spills with a high sugar or acid content (such as milk, tomatoes, sauerkraut, fruit juices or pie filling) to remain on the surface. They may cause a dull spot even after cleaning.