Manual Insignia NS-55DF710NA19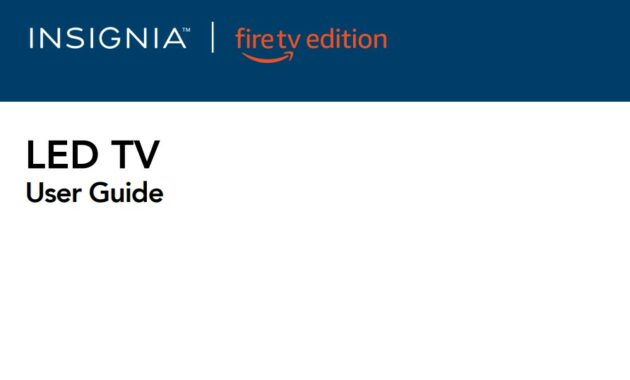 This time we will give you the user guide of the Insignia NS-55DF710NA19 LED 4K UHD Smart Fire TV Edition TV. We know you will be delighted to have purchased the TV you've been dreaming of for a long time.
It's a good idea to read the user manual first so that you can operate the TV properly and there are no errors. Because if a fatal error occurs, it will definitely damage the TV. That's what the manual is for.
Below we will provide an excerpt from the contents of the manual. To get the Insignia NS-55DF710NA19 LED 4K UHD Smart Fire TV Edition Manual, we have included the link of the pdf manual document below.
Connecting a cable or satellite box
Many cable or satellite TV boxes have more than one connection type. To get the best video, you should use the best connection type available. You can connect a cable or satellite box using:
HDMI (best)
AV (good)
Coaxial (good
Connecting an antenna or cable TV (no box)
Make sure that your TV's power cord is unplugged and all connected equipment is turned off.
Connect a coaxial cable (not provided) to the antenna/cable jack on your TV and to the antenna or cable TV wall jack.
Plug your TV's power cord into a power outlet, then turn on your TV.
On the HOME screen, navigate to the INPUTS row, then select Antenna.
If you cannot tune to channels you know exist, scan for channels. Go to Settings > Live TV > Channel Scan.
Connecting power
If your power cord is not permanently connected to your TV, connect it to the power connector on your TV.
Connect the power cord to a power outlet.
Programming a universal remote control
You can operate your Insignia TV with a new or existing universal remote control.
See the table in Common universal remote control codes on page 19 for common codes. If you have problems programming your remote or need a different remote control code:
Contact the universal remote control or cable/satellite company of the remote control you are trying to program.
Visit www.insigniaproducts.com/remotecodes for the latest remote control code information.
Call the Insignia Customer Care Center at 1-877-467-4289.
Follow your universal remote control's instructions to enter the TV code you found in Step 1.
Maintaining
Do not use your TV in areas that are too hot or too cold, because the cabinet may warp or the screen may malfunction. Your TV works best in temperatures that are comfortable to you.
Do not place your TV in direct sunlight or near a heat source.
Cleaning the TV
Cabinet Clean the cabinet with a soft, lint-free cloth. If the cabinet is especially dirty, moisten a soft, lint-free cloth in a weak detergent solution, squeeze the excess moisture from the cloth, then wipe the cabinet with the cloth. Use a clean cloth to dry the cabinet.
Cleaning the TV screen
Clean the screen with a soft, lint-free cloth.
Download User Manual
The above is a small snippet of the contents of the Insignia NS-55DF710NA19 LED 4K UHD Smart Fire TV Edition user manual. We have prepared a more complete user manual document in pdf format. Please download via the button below.