User Manual Samsung HW-Q65T/ZA – 7.1ch Soundbar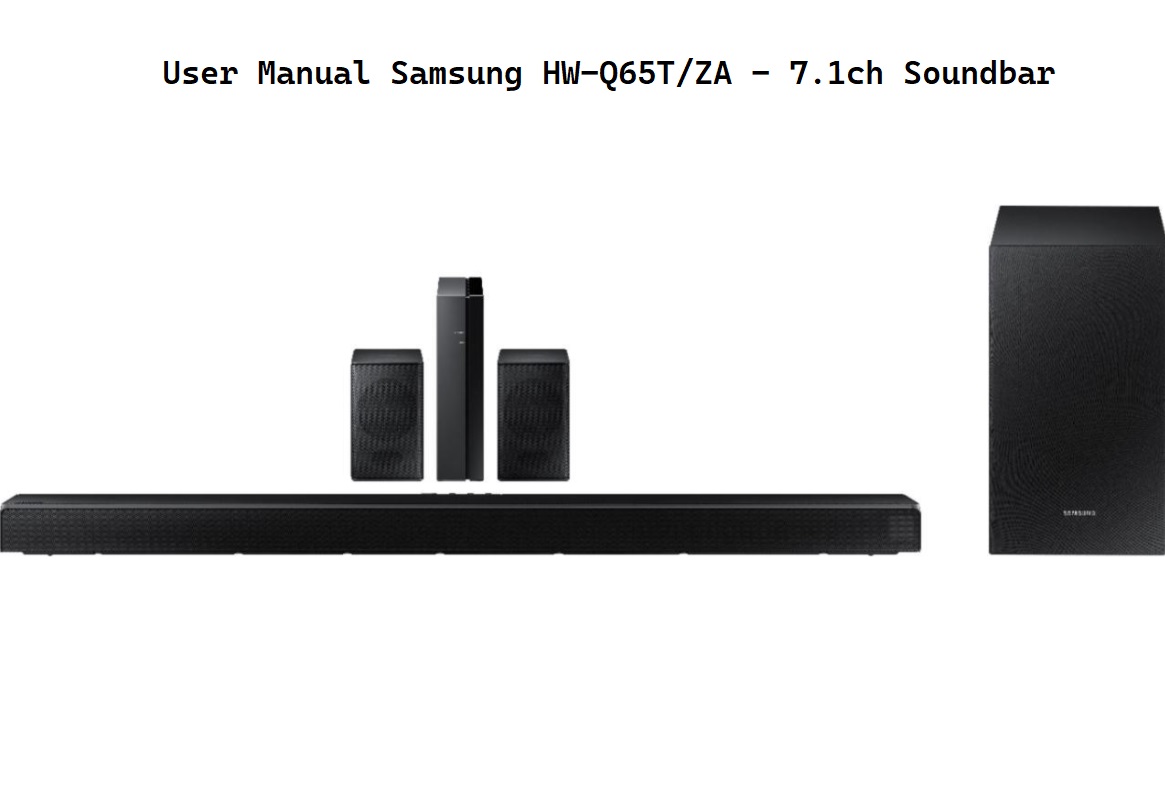 This Samsung HW-Q65T/ZA – 7.1ch Soundbar manual book helps you solve problems during installation, some technical problems, and settings when operating it.
The following is a list of this manual Samsung HW-Q65T/ZA – 7.1ch Soundbar.
Table of contents
Checking the Components
Inserting Batteries before using the Remote Control (AA batteries X 2)
Product Overview
Front Panel / Top Panel of the Soundbar
Bottom Panel of the Soundbar
Connecting the Soundbar
Connecting Electrical Power
Connecting the Soundbar to the Subwoofer
Automatic connection between the Subwoofer and the Soundbar
Manually connecting the Subwoofer if automatic connection fails
Connecting an SWA-8500 to your Soundbar
Connecting using an Optical Cable
Connecting a USB Storage Device
Connecting a Mobile Device
Connecting via Bluetooth
Using Tap Sound
Using the Remote Control
How to Use the Remote Control
Adjusting the Soundbar volume with a TV remote control
Using the Hidden Buttons (Buttons with more than one function)
Output specifications for the different sound effect modes
Installing the Wall Mount
Installation Precautions
Wall mount Components
Placing the Soundbar on a TV stand
Software Update
Update Procedure
If UPDATE is not displayed
Troubleshooting
License
Open-Source License Notice
Important Notes About Service
Specifications and Guide
CONNECTING THE SOUNDBAR
Connecting Electrical Power
Use the power components to connect the Subwoofer and Soundbar to an electrical outlet in the following order:
Connect the power cord to the Subwoofer.
Connect the power output cable to the power adapter, and then to the Soundbar.
Connect the power cord to a wall socket.
See the illustrations below.
For more information about the required electrical power and power consumption, refer to the label attached to the product. (Label: Bottom of the Soundbar Main Unit) Match the speaker cable connected to the blue port to the speaker with the blue label.
Insert the red and black coloured ends of each speaker cable into the red and black ports of the appropriate speaker.
Make sure to rest the AC/DC Adapter flat on a table or the floor. If you place the AC/DC Adapter so that it is hanging with the AC cord input facing upwards, water or other foreign substances could enter the Adapter and cause the Adapter to malfunction.
There are many other guides in the pdf manual, we will only give a brief summary. For more details, please download the Samsung HW-Q65T/ZA user manual file below.