Manual Samsung NE63A6511SS/AA 6.3 Cu. Ft. Smart Freestanding Electric Range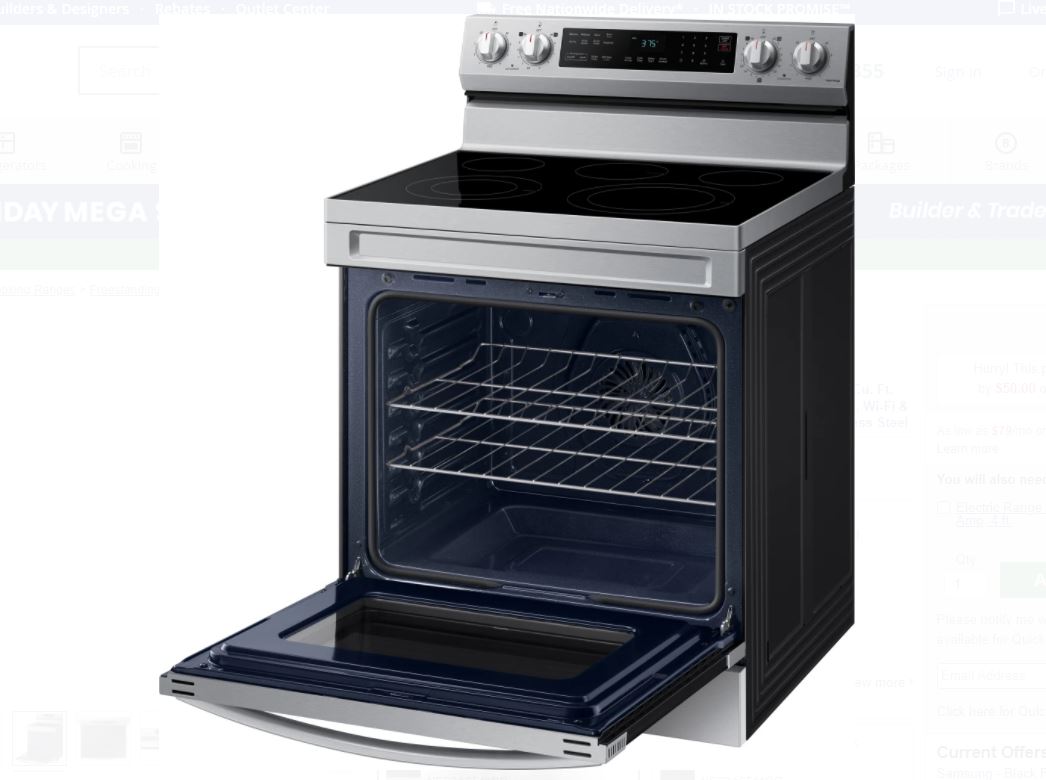 This manual will help you solve all the problems when installing and using the Samsung NE63A6511SS/AA 6.3 Cu. ft. Smart Freestanding Electric Range.
Table of contents
The following is the contents of the guide in a pdf file.
Important safety instructions
Introducing your new range
Overview
What's included
Before you begin
Energy saving tips
Surface cooking
About surface cooking
How to set the appliance for surface cooking
Using the proper cookware
Choosing the proper cookware
Protecting the cooktop
Operating the oven
The oven control panel
Oven lock
Timed cooking
Delay start
Turning the oven light on and off
Minimum and maximum settings
Using the oven racks
Baking
Convection baking
Convection roasting
Broiling
Air fry
Self-cleaning
Steam-cleaning
Care and cleaning of the oven
Care and cleaning of the glass cooktop
Changing the oven light
Troubleshooting
Information codes
Warranty (U.S.A)
Warranty (CANADA)
BEFORE COOKING
Do not use the glass cooktop surface as a cutting board.
Do not place or store items that can melt or catch fire on the glass cooktop, even when it is not being used.
Turn the surface units on only after placing cookware on them.
Do not store heavy items above the cooktop surface. They could fall and damage it.
Cooking areas
The cooking areas on your range are identified by permanent circles on the glass cooking surface. For the most efficient cooking, fit the pan size to the element size.
Pans should not extend more than 1⁄2 ̋ to 1 ̋ beyond the cooking area.
When a control is turned on, you can see a glow through the glass cooking surface. The element will cycle on and off to maintain the preset heat setting, even at high settings.
For more information on selecting proper types of cookware, refer to the section "Using the proper cookware".
Cleaning
Clean the cooktop before using it for the first time.
Clean your cooktop daily or after each use. This will keep your cooktop looking good and can prevent damage.
If a spillover occurs while you are cooking, immediately clean the spill from the cooking area while it is hot to prevent a tough cleaning chore later. Using extreme care.
The pdf file contains several languages, namely English, French, Spanish.