Gosund WP5 Smart Plug User Manual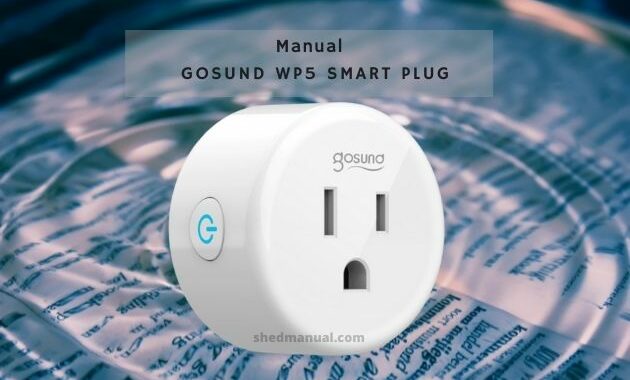 In this increasingly sophisticated era. Almost all equipment has a very extraordinary technology. Starting from simple equipment to complex all connected to the internet. 
This time I will discuss smart plug wifi. So you can control this smart plug using the internet from wherever you are. Although it looks simple it is very cool. That tool is Gosund WP5 Smart Plug Gosund Smart WiFi Outlet. We are sure that you have already purchased this tool, which is why you are looking for this manual.
Many underestimate the manual, but in the manual, there is a lot of important information about the Gosund WP5 Smart Plug Gosund Smart WiFi Outlet. You will get feature information, how to set it up and use it correctly, so you can avoid mistakes that will damage your smart plug.
Here we provide you with an excerpt from the contents of the manual.
Using Amazon Echo to Control Smart Devices: A Quick Guide
To get started, you'll need the following items.
Make sure you satisfy the following requirements before utilizing Echo to operate your smart devices.
A stable Wi-Fi network that can connect to Amazon's servers. (This is for mainland Chinese users.)
Echo, Echo Tap, or Echo Dot are all examples of Echo devices.
An Amazon account is required.
Smart Life is a mobile app with a corresponding account.
Smart devices
In the Smart Life app, you may add devices (Refer to App Instruction).
If you've previously added certain devices to your Smart Life account and the names of the devices are clearly recognizable, you may skip this section.
Change the name of the gadget and add it (Refer to App Instruction)
Sign in with your Smart Life account, add the device, and then rename it to something easy to remember, like "bedroom light."
Install Amazon Echo and turn on the Smart Life Skill.
Because the Alexa app is not accessible in mainland China, we recommend configuring over the web.
Set up Alexa on Echo via the Alexa app.
If your Echo is already set up, you may skip this step.
Ensure that your Echo device is turned on.
Tap the Alexa app icon on your mobile device to launch it.
Tap "SIGN IN" after entering your Amazon account and password.
Select "Settings" from the hamburger menu in the upper left corner, then "SET UP A NEW DEVICE."
Choose your Echo model, a language, and then press "CONNECT TO WI-FI."
Long press the top of your Echo device's dot button until the orange light appears, then hit "CONTINUE." Tap "CONTINUE" once your phone is linked to Echo.
Above are some snippets of the guidebook. To read in more detail the Gosund WP5 Smart Plug Gosund Smart WiFi Outlet manual, please download the pdf file that we have provided below.