Manual Meshforce M3 – 1 WiFi Point + 2 WiFi Dots Networking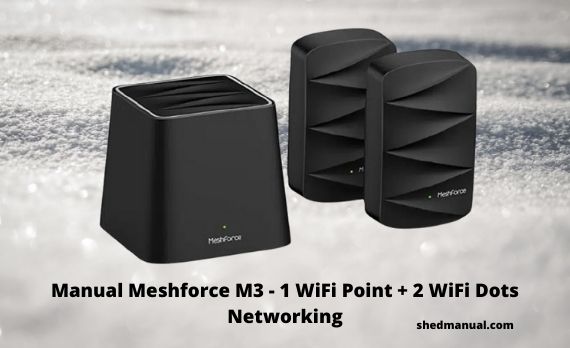 No need to be confused about setting up Meshforce M3 – 1 WiFi Point + 2 WiFi Dots, because on this page we will share a complete guidebook for settings.
Contents in the manual
Meshforce Whole Home Mesh WiFi System
Quick Start Guide
M3 / M
Dot
Video Guide
Need technical assistance
Download the App
Download on the
Get it on
App Store
Google
Setup in the App
Internet Settings
Welcome to My Mesh
Download The App
To set up, download the My Mesh app for iOS and Android. The app will walk you through the setup.
Hardware Connection
Connect the main mesh point to modem ethernet port.
Connect to Default Wifi
Connect your mobile phone to the default WiFi. WiFi name and password are printed on the bottom label of the main mesh point.
Note: The default WiFi password printed on the label is case sensitive.
Having trouble
If you did not see the default WiFi on your mobile phone, try to disable phone WiFi and re-enable it.
Setup in the App
Step 1. After your mobile phone is connected to the default WiFi, go to the app and wait for a few seconds. Tap Setup button to start.
Step 2. Your connection type should be detected automatically. If not, see page 10.
Step 3. Name your personal WiFi name and password to replace the default. Tap OK and wait for a while, now your main mesh point setup is complete.
Extend WiFi Range with Dots
MeshForce M3 Dot is designed to extend the range. You can add up to 6 dots, each dot can fulfill 1-2 rooms coverage. Simply plug your M3 Dot and wait for about 1 minute until the indicator turns solid green. It will pair with your main mesh point automatically. If not, go to the app, Settings – Add a Mesh, scan the QR code to add manually.
Note
Place mesh points within 10 meters or 2 rooms away between each other. Keep away from microwave oven or refrigerator. All the mesh points and dots are for indoor use only.
Click on the homepage up-right corner, register and sign in by email, or Google, Facebook, Twitter account.
Your family member can also manage your home mesh WiFi network with the authorized
Authorized account has the same permission with administrator account concept authorizing other accounts.
Add an account
To add family members, manage the mesh WiFi, go to Settings – Account Authorization. Type in his or her ID displayed in the profile page. Create a temporary and isolated WiFi for your guests. Go to Settings – Guest Network
You can download the detailed contents of the manual using the link below.