Manual iFi xCAN Bluetooth Headphone Amp with 3D+ and xBass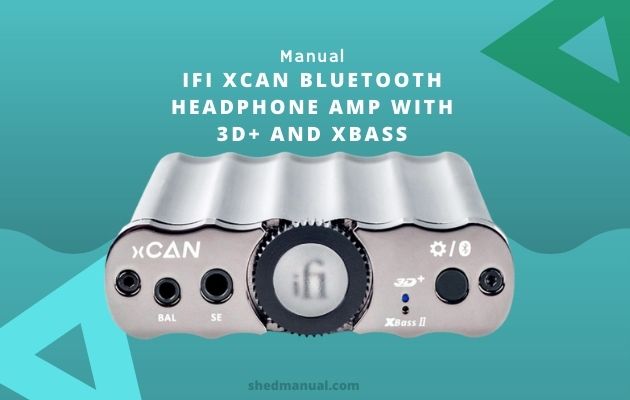 User Manual iFi xCAN Manual is beneficial information for using this device to make the best settings. Make sure you read the manual summary below.
iFi xCAN Bluetooth Headphone Amp with 3D+ and xBass can produce high-quality music. Everyone must be familiar with the iFi brand because they are the champions in making world-quality portable audio equipment.
And forget for a moment your happiness for having bought this device. Now I hope you are informed about how you operate this device properly. So, it can produce maximum sound, and of course, your device will be more durable.
Analogue Volume Rotary with LED, ON/OFF
Press and hold the rotary knob until it lights up to turn it on (with mode selection). The last mode used will be shown via the rotary knob on the front faceplate. To cycle through the two modes, either release the rotary knob or leave it pushed in. To accept that mode, release.
Before turning off, the xCAN enables two cycles of selection attempts (about 20 seconds).
To turn off the light, press and hold the rotary for several seconds until all LEDs become white, then release.
To change the input mode, turn off the xCAN and turn it back on. Check out Power ON (with mode selection).
The xCAN can hold up to 8 linked Bluetooth devices in wireless mode (Bluetooth). If the xCAN is in Wireless mode (Blue) when turned on, it will 'blink' Blue for 15 seconds while searching for a previously linked device.
If a saved device is not discovered, pairing mode is activated (INPUT: Blue/Red flashing). In BT Mode, click the 'Settings' button (tool icon) for 3 seconds to 'force pair' a new Bluetooth device.
To mute the volume, either push the rotary knob or twist it. To crank the rotary or press it again to unmute it.
Download Manual iFi xCAN Bluetooth Headphone Amp with 3D+ and xBass
The article above is just a small excerpt from the xCAN iFi manual. Suggestions from us, please download the complete user guide document to get more detailed and comprehensive information. Below we have provided the download button. You can use this new audio device properly, we wish you good quality music.