Manual Hidizs DH1000 HiFi Dual Balanced HD Headphone Audio Amplifier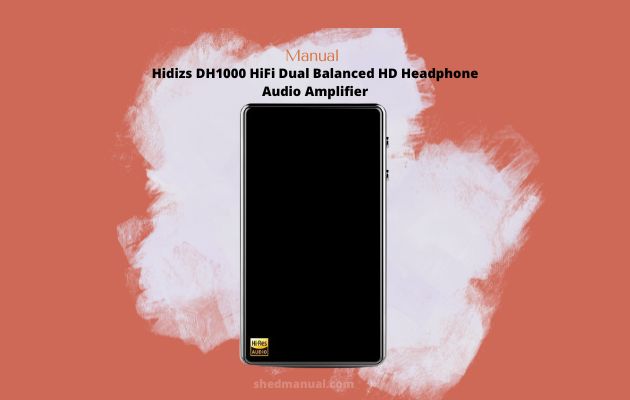 We provide the Hidizs DH1000 HiFi Dual Balanced manual, which you can download at the end of this page. Buying a portable audio device is important for those of you who like to listen to high-quality music on mobile. You've actually bought the Hidizs DH1000, because this device can make your headphones produce perfect sound.
The Hidizs DH1000 is a Hifi amplifier that uses dual ES9018K2M chips and dual ES9601K amp chips to deliver great sound. There are 2 outputs on this amplifier, namely 2.5mm and 3.5mm. In addition to using Hiby pure tone ARM processing circuit, precise data processing by FPGA and built-in dual DAC chip ES9018K2M from American company ESS, the decoding ability of DH1000 digital headphone amplifier is stronger.
Can drive headphones with an impedance of 16 to 300 ohms. That's a wonderful thing a portable amplifier can do. And there are many other advantages of Hidizs DH1000 HiFi Dual Balanced High-Resolution Headphone Audio Amplifier Hidizs DH1000.
Forget for a moment about your happiness after buying this cool amplifier. It's time for you to learn how to use Hidizs DH1000 properly, so you can enjoy music with perfect HD quality.
Devices that can be used and audio formats in use.
DH1000 support PC, iOS, macOS & Android operating systems.
DH1000 supports APE, FLAC, WAV, MP3 & DSD audio formats.
Connect your Android device-normal mode
If the OTG option is also enabled, enable USB debug mode on the phone. Some phones do not have the above options, but this mode opens if you are connected to your computer and have the Phone Manager app or device driver installed.
Download the latest version of the Hiby Music app and install it on Google Play.
I connected my mobile phone to the DH1000 via data port A.
Launch the Hiby Music app. The software will prompt you to find the USB device and identify success. If the phone is still silent or silent, restart the phone and try again. 5.5. If you cannot play the DH1000 after restarting your phone, use data port B, which is connected in private mode.
Connect your Android device-private mode
Connect your Android device-private mode Some Android devices may not work in normal mode. Alternatively, if your phone is almost turned off, you can use private mode. Connect the device via the appropriate cable. DH1000 data port B and other procedures are the same as in normal mode. In this case, playing the Sonata DH1000 will also charge the battery of the connected device, but the playback time will be longer. It will be greatly reduced.
Connecting the PC
Connect the DH1000 and the PC via data port A.
The operating system will prompt you to find new hardware, if not, please change the computer. USB port and try again.
Download the DH1000 driver from Hidizs official website.
Run and follow the prompts to complete the installation.
Make sure that the system default playback device is selected on the DH1000
For Apple computers
Connect DH1000 and Apple computer via data port A, just turn on the switch to use.
For iPhone, iPad
Connect DH1000 and iPhone, iPad via data port B, just flip the switch use.
Manual Hidizs DH1000 HiFi Dual Balanced HD PDF
Above is an excerpt of the Hidizs DH1000 HiFi Dual Balanced HD Headphone Audio Amplifier manual. To get more detailed information about this cool portable audio device, you can download the pdf manual that we have attached below. We also have the HIDIZS AP80 PRO-X Manual, if you have one. Thank you, I hope this can be useful for you.