User Manual HIDIZS AP80 PRO-X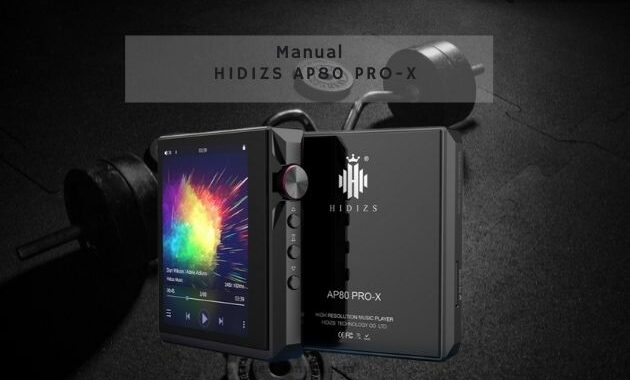 On this occasion we will present the HIDIZS AP80 PRO-X manual. Portable audio is a simple tool but can produce beautiful sound quality. If you're looking for the HIDIZS AP80 PRO-X manual, you've come to the right place. Here we will provide an excerpt from the manual. Please read carefully.
Operation
Turn on screen: slide up on the screen when AP80 Pro-X is powered on with screen off.
Back: swipe right on the screen
Note: Except the return gesture control, clicking the back icon in the upper left corner of "Step", "System settings", About" and other programs can lead to the previous menu.
Swipe up from the bottom of the screen to bring up shortcut
functions. The four function icons are displayed in gold when turned on, and in silver when turned off. Meanwhile, adjust the screen brightness, volume, play/pause and previous/next are supported.
Player
Swipe from the left side to the right of the screen Or click the Hidizs logo will bring up the menu bar: "Update database" "MSEB", "Equalizer", "Play Settings" and "Exit". Click "Exit" will return to the main menu (Tracks remain background playback mode).
The AP80 PRO-X stores tracks in the external Micro SD, which supports up to 512G.
1) Track scanning is required when inserting the Micro SD card for the first time or changing the SD card. Steps: Run Player > Update database, or System settings > Music database update mode > Manual.
2) If copying audio files from the computer is needed, insert the Micro SD card into the AP80 PRO-X, click System settings > USB mode > Storage. Then connect the AP80 PRO-X to the computer (via a USB cable), copy the tracks from the computer to Micro SD card. Before unplugging the USB cable, please "safely eject" the Micro SD card in the computer.
Long press any tracks in the playlist to bring up the shortcut function: delete the track, add to playlist.
HiBy Link: AP80 PRO-X settings: Bluetooth > Bluetooth on > HiBy Link. Mobile Phone settings: Turn on Bluetooth, then run the HiByMusic APP, search and pair with AP80 PRO-X. Then the convenient HiBy Link function allows you to control your AP80 PRO-X from the HiBy Music app on your smartphone, remotely controlling playback, volume control, playlist management etc.* Scan the QR code below to download HiBy Music, or download from the APP Market or HiBy official website (https://www.hi-by.com).
MQA Audio Technology
QA is an abbreviation for Master Quality Authenticated, which is an breakthrough audio technology developed by Bob Stuart, the co-founder of Meridian, UK.
1) Hidizs AP80, AP80 Pro and AP80 Pro-X all certified by MQA. MQA uses a unique 'origami' folding technique to "hide" audio signals in files by "compressing" ultra-high definition audio, and uses an "unfolding" method to playback high-definition content.
Non-unfolded mode will reproduce ordinary definition i.e. in flac format, 2X unfolding produces Hi-Res definition of 24Bit/96KHz, 4X unfolding produces 24Bit/192Khz, 8X unfolding produces 24Bit/384KHz, and 16X unfolding produces 768 KHz.
2) You could check whether the audio files support MQA in the
playlist.
3) Click Track info to get the track details.
Output Ports
3.5mm headphone port + line out port:
a. This headphone port is suitable for most unbalanced headphon- es, including earphones with three-ring plug or earphones with four-ring plug and with a microphone and/or remote control function. Remote control, previous/next, play/pause functions are supported.
b. A 3.5mm auxiliary cable can provide line output to the related device.
2.5mm balanced headphone port: Suitably for balanced headphones with a 2.5mm plug. * Please do not use a converter/adapter to connect the single-ended headphones to this port.
Bluetooth
AP80 PRO-X supports bidirectional Bluetooth 4.2, Sony LDAC,
CSR aptX and other Bluetooth codecs.
Steps: Bluetooth » Search devices » Available devices » connect to the device.
AP80 PRO-X supports Bidirectional Bluetooth, can transmit audio data to mobile phones and it can also serve as Bluetooth AMP DAC when receiving the audio data from a mobile phone.
AP80 PRO-X serves as a Bluetooth digital source:
Connect the AP80 PRO-X to mobile phone via Bluetooth, then connect the AP80 PRO-X to a DAC AMP(e.g. DH8OS) via Type-C connection. Please note: the best transmission distance for LDAC(96KHz), UAT
(192kH2) is within 4m.
When connected to Bluetooth earphones or Bluetooth audio, "S" means that the SBC transmission protocol is using, " A" means apt-X and L means LDAC. Please note: after switching the Bluetooth codecs in the "High quality" setting in Bluetooth, AP80 PRO-X needs to be restarted to make the new Bluetooth codec work. Please check whether the Bluetooth earphones or Bluetooth audio support apt-X or LDAC, if do not support, you should choose the "AAC/SBC".
You've read the snippet, to read in more detail, please download the pdf manual file below.