Manual Hoover UH72625 Operating and Servicing Instructions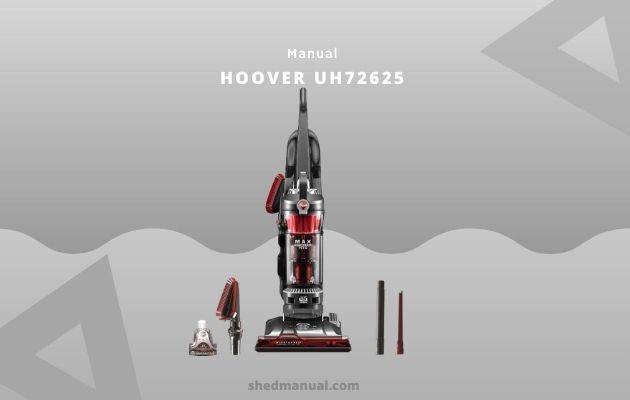 The Hoover UH72625 manual will provide you with usage and operating information. So you can clean all the dirt and dust in the house perfectly.
This vacuum can work on hardwood floors and carpets. Has WindTunnel 3 technology. It can suck hair and pet hair quickly and perfectly. Cleaning the house will be easier, and less energy-consuming. All can be done easily by Hoover UH72625.
This manual will provide answers when you encounter difficulties while operating or encounter problems with this equipment. Just so you know, we're going to give you a summary of the Hoover UH72625 manual.
Tool Cleaning Instructions
Wipe the Hose and Turbo Tool with a moist cloth to clean them. DO NOT immerse yourself in water. Other cleaning supplies should be washed in warm water with a light detergent. Before using, rinse and air dry for 24 hours.
Cleaning The Stairs
Stair Cleaning Lift Vacuum Place the handle on the stairwell. Straight from front to back. When not in use, never leave the vacuum on the stairwell. For stair cleaning, use the Hose and Turbo Tool (tool varies by model). Always keep the handle of the tool upright when using it.
When cleaning the stairwell, use special caution. Always place the cleaner at the bottom of the stairs on the floor to avoid physical harm or damage, as well as to keep the cleaner from falling. Place cleaner away from stairwells and furniture to avoid injury or damage. Always keep the handle of the tool upright when using it.
Maintenance
Familiarize yourself with these home maintenance duties, since correct vacuum use and upkeep will guarantee that your vacuum continues to clean effectively. Take the appliance to a service center if it is not working properly, has been dropped, damaged, left outside, or has been dropped into water.
Your cleaner has a Thermal Protector built-in to keep it from overheating. The cleaner will come to a halt when the thermal protector engages.
If this occurs, take these steps:
Unplug the cleaner from the outlet and turn it off.
Remove the dirt cup.
Check for blockages in the nozzle inlet, hose connector, hose, dirt cup inlet, cyclonic filter, rinsable filter, and HEPA filter. If any obstacles exist, remove them. The thermal protector will deactivate after the cleaner has been unplugged for 30 minutes and the motor has cooled. Cleaning can then resume. If the thermal protector still activates after performing the procedures above, your cleaner has to be serviced.
Service
Locate the nearest Authorized Hoover® Warranty Service Dealer (Depot) by
Looking in the Yellow Pages for "Vacuum Cleaners" or "Household."
Go to hoover.com (for US customers) or hoover.ca (for Canadian customers) (Canadian customers). To find the nearest service outlet, click on the service center link.
Call 1-800-944-9200 for an automated list of authorized service outlet locations.
Do not take your vacuum to Glenwillow's Hoover®, Inc., Company for service. This will just cause further delays. If you require additional support, please contact:
Call 1-800-944-9200 between 8 a.m. and 7 p.m. EST to talk with a customer service representative. When asking for information or obtaining parts, always identify your vacuum by the whole model number. (The vacuum's model number can be found on the bottom.)
Download the Hoover UH72625 User Manual
Not everyone can understand how to operate the Hoover UH72625. To learn more about this vacuum cleaner, you can download the pdf manual that we have prepared. We make sure the information is very valuable for you.
We have prepared a free pdf manual file for you. You can download it from the button that we have provided below.