Eufy HomeVac S11 Go Cordless Stick User Manual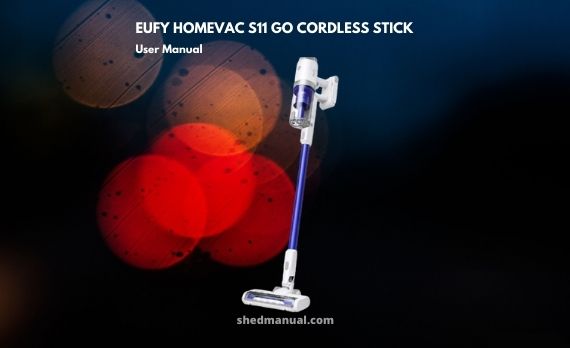 Eufy HomeVac S11 Go Cordless will make your home cleaner and healthier. The user manual and installation guide on the following page will help you.
Table of contents user manual Eufy HomeVac S11 Go Cordless
Important Safety Instructions
Overview
Assembling
Wall Mounting
Recharging
Using
Maintenance
Specifications
Customer Service
Warning
Recharge only with the charger (US: YLS0241A-T300080; UK: YLS0241A-U300080; AU: YLS0241A-A300080; EU: YLS0241A-E300080) specified by the manufacturer. A charger that is suitable for one type of battery pack may cause a risk of fire when used with another battery pack.
This appliance can be used by children aged from 8 years and above and persons with reduced physical, sensory or mental capabilities or lack of experience and knowledge if they have been given supervision or instruction concerning use of the appliance in a safe way and understand the hazards involved. Children shall not play with the appliance. Cleaning and user maintenance shall not be done by children without supervision.
The battery must be removed from the device before the device is disposed of.
This appliance must be disconnected from the mains supply when removing the battery.
The used battery should be placed in a sealed plastic bag and disposed of safely according to local environmental regulations.
Recharging
The vacuum cleaner is powered by the built-in lithium battery. Before first use, charge the battery for more than 3.5 hours.
The vacuum cleaner cannot work while charging.
The vacuum cleaner cannot be charged when the ambient temperature is above 35o C.
Using
Before use, make sure that
the battery is fully charged.
the dust collector and filters are cleaned, dried, and fixed in place.
Do not use to clean up water.
Above is a small excerpt from the Eufy HomeVac S11 Go Cordless Stick User Manual. For the full version in a pdf file that can be downloaded via the link below.