Manual General Electric ADEL70LRL1 Dehumidifier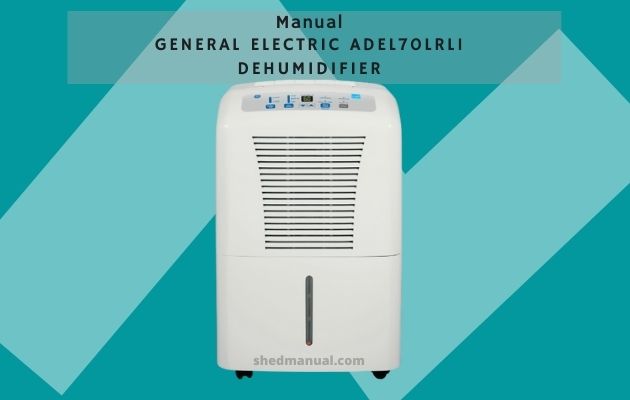 The General Electric ADEL70LRL1 Dehumidifier User Manual will help you install, operate and troubleshoot. A dehumidifier is necessary for those of us who live in dry areas. A dehumidifier will help humidify the air so that it becomes healthier.
We recommend that you read the General Electric ADEL70LRL1 manual, it will help you get to know more about the tool you have just purchased. We'll provide an excerpt from the contents of the General Electric ADEL70LRL1 manual below. So that you know what is in the manual.
Table of contents
Safety Instructions
Operating Instructions
About the Controls
Dehumidifier
Automatic Defrost
Choosing a Location
How the Dehumidifier Operates
Removing Collected Water
Water Level
Care and Cleaning
Air Filter
Grille and Case
Water Bucket
Troubleshooting Tips
Consumer Support
Consumer Support
Warranty
To Replace The Filter:
Place the large end of filter above tabs, press filter down firmly to spread tabs. Once the filter is between tabs pressfilter inward to engage tabs into the filter.
Replace water tank cover and handle.
Bucket Filter
The bucket filter is located inside the bucket near the bottom. The filter should be checked when cleaning the bucket. If the filter has any debris on it, gently remove the filter as described below and rinse with warm water.Replace the filter in the bucket once it is clean.
Squeeze both clasp inward to disengage clasp clips from water tank cover. Lift the cover upwards to remove.
Lift the end of the filter upwards to remove the filter.
Water Level
The dehumidifier will turn off automatically when the bucket is full, or when the bucket is removed or not replaced in the proper position
The bucket must be replaced in the proper position for the dehumidifier to work. The light will be on and the dehumidifier will not run if the bucket is not in the proper position.
Air Filter
The air filter behind the front grille should be checked and cleaned at least every 250 hours of operation or more often if necessary.
After 250 hours of operation, the Clean the Filter indicator light will glow to remind you to clean the filter. Remove the filter and clean it. Replace the filter and press the FilterTimer pad to turn off the Clean the Filter light.
Storage
If the unit is to be stored for an extended period of time, take the following actions before putting away the machine.
Empty the bucket of all water.
Clean the water bucket and bucket filter per instructions.
Allow the water bucket to dry and reinstall.
Download Manual General Electric ADEL70LRL1 Dehumidifier
The above is a small excerpt from the book General Electric ADEL70LRL1 Dehumidifier. You can get more detailed information from the attached pdf manual. To get it, please click the download button below.