Manual General Electric RGB532BEA2AD Hotpoint 30 Inch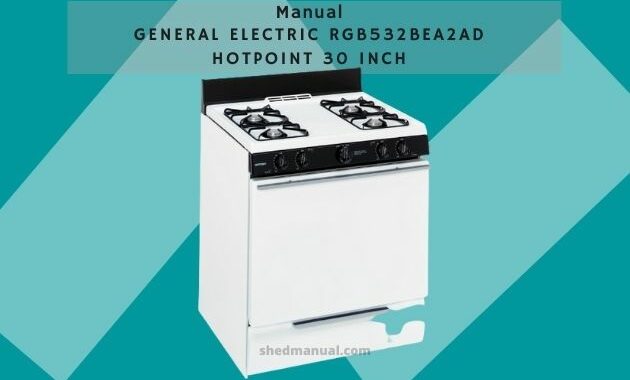 The General Electric RGB532BEA2AD 30 inch Hotpoint manual has important information. What you definitely need is about the features and specifications of your new Ranges.
Learning how to use new Ranges like the General Electric RGB532BEA2AD takes time and patience. But with this user manual you can learn faster.
With the General Electric RGB532BEA2AD user guide, you can know all about this tool easily. The way to use ranges is already grouped. We will provide a small snippet of the contents of the book below.
Use and Care & Installation Guide of GE RGB532BEA2AD
Contents of the user manual GE RGB532BEA2AD
Safety Instructions
Anti-Tip Device
Operating Instructions, Tips Aluminum Foil
Clock and Timer
Features
Oven
Baking
Broiling, Broiling Guide
Control Settings
Light; Bulb Replacement
Preheating
Roasting, Roasting Guide
Shelves
Surface Cooking
Control Settings
Electric Ignition
Standing Pilot Models
Care and Cleaning
Broiler Drawer
Broiler Pan and Grid
Burner Assembly
Continuous Clean
Door Removal
Lift-Up Cooktop
Oven Bottom
Oven Vents
Storage Drawer
TM Gas Range
Before Call For You Service
Thermostat Adjustment–
Preparation
Air Adjustment
Flame Size
Flooring Under the Range
Installation Instructions
Leveling
Consumer Services
Appliance Registration
Important Phone Numbers
Model and Serial Number Location
Warranty
Using Your Oven
Before Using Your Oven
Be sure you understand how to set the controls properly. Practice removing and replacing the shelves while the oven is cool. Read the information and tips on the following pages. Keep this guide handy where you can refer to it, especially during the first weeks of using your new range.
Power Outage Electric Ignition
CAUTION: DO NOT MAKE ANY ATTEMPT TO OPERATE THE ELECTRIC IGNITION OVEN DURING AN ELECTRICAL POWER FAILURE. The oven or broiler cannot be lit during a power failure. Gas will not flow unless the glow bar is hot. If the oven is in use when a power failure occurs, the oven burner shuts off and cannot be re-lit until power is restored. This is because the flow of gas is automatically stopped and will not resume when power is restored until the glow bar has reached operating temperature.
Oven Control
Your oven is controlled by a single OVEN CONTROL knob. It will normally take 30-90 seconds before the flame comes on. After the oven reaches the selected temperature, the oven burner cycles-off completely, then on with a full flame-to maintain the selected temperature.
Oven Moisture
As your oven heats up, the temperature change of the air in the oven may cause water droplets to form on the door glass. These droplets are harmless and will evaporate as the oven continues to heat up.
Care And Cleaning
Proper care and cleaning are important so your range will give you efficient and satisfactory service. Follow these directions carefully in caring for it to help assure safe and proper maintenance.
Standard Twin Burners
On models with standard twin burners, the cooktop lifts up for easy access. Turn all controls OFF before removing burner parts and drip pans (if so equipped). The burner grates and drip pans (if so equipped) can be lifted off, making them easy to clean. The holes in the surface burners of your range must be kept clean at all times for proper ignition and an even, unhampered flame.
You should clean the surface burners routinely, especially after bad spillovers, which could clog these holes. Wipe off surface burners. If heavy spillover occurs, remove the surface burners from the range. Burners lift out for cleaning. Lift up the cooktop and then lift out the surface burners. To remove burned-on food, soak the surface burner in a solution of mild liquid detergent and hot water. Soak the surface burner for 20 to 30 minutes. For more stubborn stains, use a cleanser like Soft Scrub® brand or Bon Ami® brand. Rinse well to remove any traces of the cleanser that might clog the surface burner openings. Do not use steel wool because it will clog the surface burner openings and scratch the surface burners. If the holes become clogged, clean them with a sewing needle or twist-tie. Before putting the surface burner back, shake out excess water and then dry it thoroughly by setting it in a warm oven for 30 minutes. Then place it back in the range, making sure it is properly seated and level. Check the flame pattern of each burner. If the flames are "jumpy" (not steady), clean the holes again with a sewing needle or twist-tie.
Drip Pans
Remove the grates and lift out the drip pans. Drip pans can be cleaned in a dishwasher or by hand. To get rid of burned-on food, place them in a covered container (or plastic bag) with 1/4 cup ammonia to loosen the soil. Then scrub with a soap-filled scouring pad if necessary.
When replacing the drip pans, make sure they are in the correct position.
CAUTION: Do not clean the drip pans in a self cleaning oven.
Download User Manual General Electric RGB532BEA2AD
The above is a small excerpt from the General Electric RGB532BEA2AD user manual. To read more fully, please download the pdf document attached below.