User Manual Samsung NX60A6511SS/AA Gas Range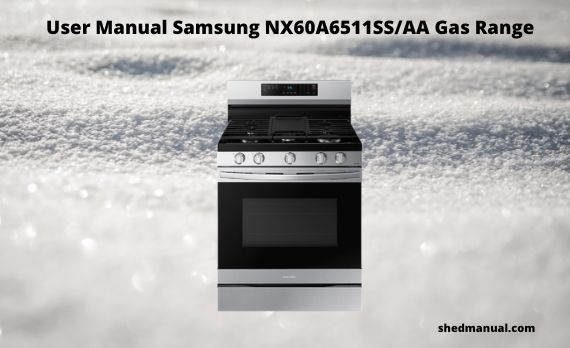 he following is a user manual for the Samsung NX60A6511SS/AA Gas Range. Will help you operate the machine. So that it can make bread, cakes and all your dishes to be delicious and delicious.
Table of content
Important safety information
Overview
Layout
What's included
Control panel
Before you start
Clock
Oven vent/cooling vent
Cooktop
Ignition
Cookware
Griddle
Gas oven
Using the oven racks
Cooking mode
Air Fry mode
Cooking options
Special features
Changing settings
Smart control
Voice control
Broiling
Broiling uses the oven broil burner at the top of the oven to cook and brown food. Meat or fish must be put on a broiling grid in a broiling pan. Preheating for 5 minutes before broiling is recommended
Put food on a broiling grid in a broiling pan.
Press Broil once for Hi temperature broiling or twice for Lo.
Press START/SET to start the broiler.
Let the oven pre-heat for 5 minutes.
Place the pan on the desired rack, and then close the oven door.
When one side of the food is browned, turn it over, close the oven door, and start cooking the other side.
When cooking is complete, press OFF/CLEAR.
Air Fry mode
This feature uses hot air for crispier and healthier frozen or fresh foods without any or less oil than normal convection modes. For best results, use this mode in single oven mode and place the Air Fry tray in position 3. The temperature can be set between 350 °F and 500 °F. Preheating is not necessary for this mode. Follow recipe or package directions for set temperature, time, or quantity.
Place the tray on rack position 3.
Press Air Fry.
Enter the suggested temperature for your food as recommended by its instructions using the number pad.
If necessary, set the Cook Time and Delay Start.
Press START/SET.
When cooking is complete, press OFF/CLEAR, and then take out the food.
NOTE
Place a baking sheet or tray on the rack below the Air Fry Tray to catch any drippings. This will help to reduce splatter and smoke.
Air Fry is designed for baking on a single oven rack. Place food on rack position 3 for best results.
Download Pdf User Manual
The above is a small excerpt from the user manual. To get a more detailed guide, please download the file below.