User Manual iRobot Roomba i7+ 7550 Robot Vacuum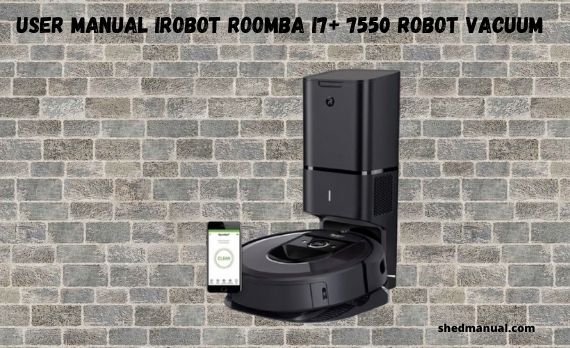 iRobot Roomba i7+ 7550 Robot Vacuum will help clean all the dirt on your floor. All dust will be sucked out perfectly. And here is the user manual and user guide for using this tool so that it can work perfectly.
iRobot Roomba Clean Base™ Automatic Dirt Disposal
Owner's Guide
NOTICE
Product may not be used with any type of power converter. Use of power converters will immediately void the warranty.
If you live in an area prone to electrical storms, it is recommended that you use additional surge protection. Your dirt disposal may be protected with a surge protector in the event of severe electrical storms.
Do not use without dust bag and/or filters in place.
To properly maintain your dirt disposal, do not place foreign objects inside and ensure it is clear of debris.
Always disconnect your robot from the dirt disposal before cleaning or maintaining it.
About Your Automatic Dirt Disposal
While cleaning, your robot will automatically return to the dirt disposal to empty its bin and recharge as needed.
The dirt disposal's LED indicator will turn solid red when a new bag is needed. If a clog is detected, the dirt disposal will trigger additional attempts to automatically clear the clog. 1ft (0.3 m) above
Note: If you place your robot on the dirt disposal by hand, it will not empty automatically. In this case, use the iRobot HOME App or the button on your robot to manually empty your robot's bin.
Care and Maintenance
Replacing the Bag
Lift up on the canister lid to open.
Pull up on the plastic card to remove the bag from the canister.
Note: This will seal the bag so dust and debris cannot escape.
Discard the used bag.
Install a new bag, sliding the plastic card into the guide rails.
Press down on the lid making sure it is completely closed.
Note: To achieve optimal performance with your robot and automatic dirt disposal, clean and/or replace your robot's filter as needed.
Cleaning the IR Window and Charging Contacts
Inspect the sensors and charging contacts to make sure they are clear of debris. Wipe with a clean, dry cloth.
Note: Do not spray cleaning solution directly onto sensors or into sensor opening.
The above is a small excerpt from the iRobot Roomba i7+ 7550 Robot Vacuum user manual. Available in English, for a more detailed pdf manual, please download the link below.