User Manual iRobot Braava Jet M6 (6110)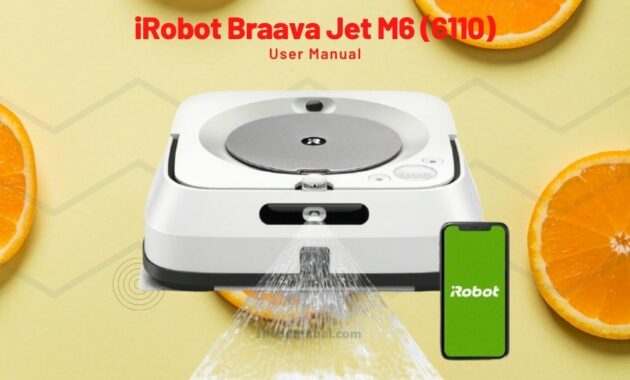 User Manual iRobot Braava Jet M6 (6110) Ultimate Robot Mop can be a solution if you have trouble using this floor cleaning tool.
Table of contents
About you Braava Jet M6 Robot Map
Getting started
Using your Braava Jet M6 Robot Map
Care and Maintenance
iRobot Customer Care
Regulatory Information
Getting started
Get ready
To start, you'll need your robot, charging station, drip tray, and power cord.
Position the charging station and plug in. Choose an area near an outlet with good Wi-Fi coverage. Plug the power cord into the charging station, and then into the wall.
WARNING: To prevent the risk of your robot falling down stairs, ensure that the charging station is placed at least 4 feet (1.2 meters) away from stairs.
Attach the drip tray. Place the drip tray onto the front of the charging station.
Wake up your robot. Slide your robot onto the charging station contacts to activate the battery. The light ring will light up and after a few minutes, and a sound will let you know it's awake.
Connect and update. Connect your robot to the iRobot HOME App to allow remote control, cleaning customization, and to keep robot software up to date.
Attach a cleaning pad. Slide a wet mopping or dry sweeping pad onto the underside of the robot. Detach an existing cleaning pad by pressing the button on the front of the robot.
Fill the tank. Remove the tank from the robot. Add Braava jet® Hard Floor Cleaning Solution (if using). Then fill to top with water.
Cleaning Solution
When wet mopping, you may add Braava jet® Hard Floor Cleaning Solution to the tank before adding water. This product is a concentrate that is suitable for all well sealed hard floors.
Important: Braava jet® Hard Floor Cleaning Solution is the only solution that can be safely used in your robot mop. Please do not use other cleaning solutions.
Cleaning
Use your robot frequently to maintain well-conditioned floors. Your robot will automatically explore and clean your home, moving in a methodical manner across the floor, with some overlap from one.
The above is a small excerpt from the iRobot Braava Jet M6 (6110) Ultimate Robot Mop user manual. For the full version, please download the pdf below.