iLife A4S Robotic Vacuum Cleaner User Manual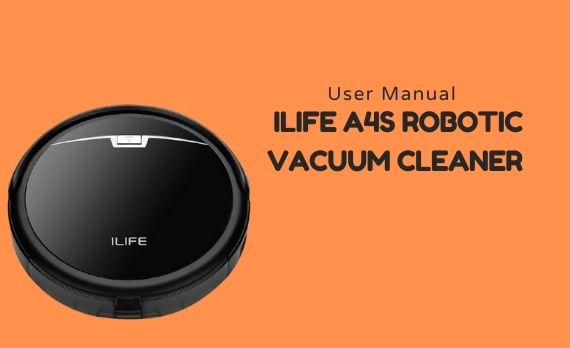 iLife A4S Robotic Vacuum Cleaner User Manual will help with correct settings. So that your home becomes cleaner and healthier.
The following is a snippet of the article in the iLife A4S Robotic Vacuum Cleaner User Manual File user manual.
Information Tips
For Best Usage
Place the charge dock against wall in a wide open area, and do not put it near a door or stairs

Clear up excess utters on the floor before cleaning (e.g. cables, bar stools, etc.).

Choose MAX mode to clean an area of highly concentrated dust.
Keep Peak Performance
Remove the main brush, dean the both ends of the bristle brush and the brush motion

link twice a week. ( See figure 1 )

Take off the front wheel with a screwdriver, clean hairs in the wheel cavity and the axle

twice a week. (See figure 2)

Empty dust box and dean HEPA filter and bristle brush after each use. Replace a new

HEPA filter every month.
Safety instructions
Before using this product, please read the following safety instructions and follow all normal safety precautions.
Read this user manual thoroughly and carefully before using this product.

Save this user manual.

Any operations that oppose to descriptions in this user manual may lead to

harm to humans or this product.
WARNING
Only the certified technician may disassemble the product. Users are not

allowed to disassemble or repair the product.
Only use the adapter provided by the factory. Using other un-matched adapter may cause electric shock, fire or product damage.
Do not touch the power cord, plug or adapter when your hands are wet.
Do not make clothes or part of a body drawn into the product's wheels.
Do not make this product close to cigarette, lighter, match &r any flammables.
If the product is needed to clean, dean it after charging is stopped.
Do not over-bend the power cord or pressure the power cord with heavy or sharp objects.

This product is used only indoors, do not use it outdoors.

Do not sit on top of this product or attach an object on the top of it.

Do not use this product in wet or moist environment (any environment with

liquid).
Before use, remove all the damageable objects (textile, glass, lighting, etch and objects that could get caught in the brushes or suck passage(cards, clothing, papers, drapes, blinds, etc.).
Do not place this product where it is easy to drop off (tables, chairs, etc.).
Turn off the power switch during transportation or when you don't need to use this product for a long time. Before use, check whether the adapter and outlet are properly connected. Or else the battery may be damaged.
To avoid tripping, inform all the people in the house when this product is working.
Do not use this product when the dust bin is full.
Use this product in temperature from -10°to 50°(centigrade degree).
Do not place this product in a high-temperature environment.
The battery must be removed from the product before it is scrapped.
The product must be disconnected from the supply mains when removing the battery.
The battery is to be disposed of safely.
Use factory-authorized batteries only, do not use unmatched batteries.
The above is a small excerpt from the iLife A4S Robotic Vacuum Cleaner user manual. For the full version, please download the pdf below.