User Manual VIZIO V-Series™ 65" Class 4K HDR Smart TV V655-G9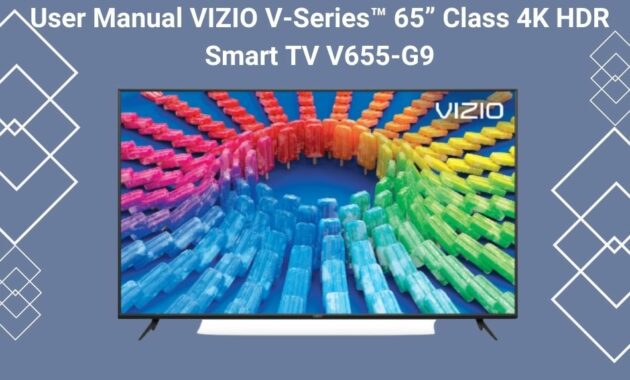 The Vizio 655-G9 User Guide will help during the first installation. Telling important menus on the tv screen. How to use USB and troubleshooting that occurs when you use the tv. And there are many other guides that will help you discover features you might not know about. And for more details you can see a little snippet below.
CONNECTING A DEVICE – AUDIO CABLE TYPES
Your TV can be used to display output from most devices.
Verify that your device has a video port that matches an available port on the TV (HDMI, Component, etc.).
Connect the appropriate cable (not included) to the TV and the device.
Turn the TV and your device on. Set the TV's input to match the connection you used (HDMI-1, HDMI-2, etc.).
Completing The First-Time Setup
The first time you turn on the TV, the on-screen instructions will guide you through each of the steps necessary to get your TV ready for use.
Before you begin the first-time setup:
Your TV should be installed and the power cord should be connected to an electrical outlet.
If you have a wireless network, have the network password ready.
If you are connecting to your network with an Ethernet cable, connect it to the Ethernet port on the TV.
SmartCast Home
What is SmartCast Home?
SmartCast Home lets you discover, stream, and control your content like never before! Access top apps, like Netflix, Hulu, and Amazon Prime Video by using the remote to easily browse and launch content directly from the home screen. SmartCast Home makes finding something to watch easy and fun.
What you can do with SmartCast Home:
Stream high quality entertainment.
Launch top tier apps directly from the home screen.
Unlock your photos and videos by mirroring your laptop or mobile device onto your TV.
Turn your iOS or Android device into the ultimate streaming companion with the VIZIO SmartCast Mobile app.
Rearrange apps on your home screen just the way you like it.
Works with Google Assistant and Amazon Alexa.
WatchFree
What is WatchFree™?
VIZIO WatchFree takes your cord-cutting entertainment experience one step further! With the simple press of a button, enjoy free streaming TV with over 100 live TV channels to choose from – news, movies, sports, comedy, music and more. A built-in on-screen guide makes finding something to watch easier than ever. And it's all FREE – no fees, no subscriptions, or logins.
What you can do with WatchFree:
Stream over 100 live TV channels absolutely free – news, movies, sports, comedy, music and more.
Navigate through channels, organized by genre, with an intuitive on-screen guide.
Watch 1000's of free movies from major studios.
Watch the best of the internet TV.
No logins, subscriptions or transactions fees. How to Launch WatchFree: To launch and begin watching entertainment offered on WatchFree:
Press the Input button on your remote and select WatchFree -or-
Simply select the WatchFree app logo from the SmartCast Home app row.
This manual is suitable for other series such as D24h-G9, D32h-G9, D40f-G9, D50x-G9, V405-G9, V505-G9 & V655-G9. To get a complete guide, you can download the pdf document below.