Manual Optoma GT1080HDR Short Throw Gaming Projector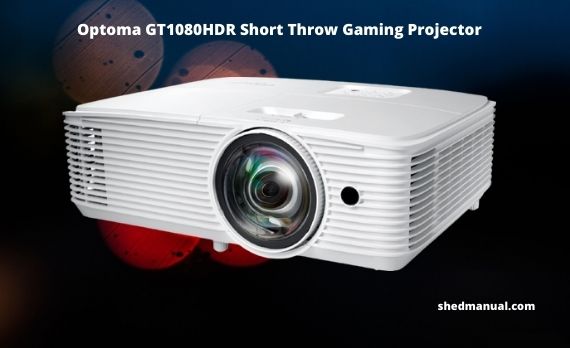 This user manual contains about how to setup security maintenance. how to use the projector and some additional information that will make your installation easier.
Table of contents User Manual Short Throw Gaming Projector Optoma
Safety
Important Safety Instruction
Safety Information
Copyright
Disclaimer
Trademark Recognition
FCC
Declaration of Conformity for EU countries
WEEE
Introduction
Package Overview
Standard accessories
Optional accessories
Product Overview
Connections
Keypad
Remote control 1
Remote control 2
Setup And Installation
Installing the projector
Connecting sources to the projector
Adjusting the projector image
Using The Projector
Powering on / off the projector
Selecting an input source
Menu navigation and features
OSD Menu tree
Display image settings menu
Display
D menu
Display aspect ratio menu
Display edge mask menu
Display zoom menu
Display image shift menu
Display keystone menu
Audio mute menu
Audio volume menu
Audio input menu
Setup projection menu
Setup lamp settings menu
Setup filter settings menu
SETUP AND INSTALLATION
Installing the projector
Your projector is designed to be installed in one of four possible positions.
Your room layout or personal preference will dictate which installation location you select. Take into consideration the size and position of your screen, the location of a suitable power outlet, as well as the location and distance between the projector and the rest of your equipment.
Projector installation notice
Place the projector in a horizontal position. The tilt angle of the projector should not exceed 15 degrees, nor should the projector be installed in any way other than the desktop and ceiling mount, otherwise lamp life could decrease dramatically, and may lead to other unpredictable damages.
Allow at least 30 cm clearance around the exhaust vent.
Ensure that the intake vents do not recycle hot air from the exhaust vent.
When operating the projector in an enclosed space, ensure that the surrounding air temperature within the enclosure does not exceed operation temperature while the projector is running, and the air intake and exhaust vents are unobstructed.
Maintenance
Cleaning the dust filter, we recommend you to clean the dust filter every three months. Clean it more often if the projector is used in a dusty environment.
Above is a brief summary of the contents of the Optoma GT1080HDR Short Throw Gaming Projector manual. For detailed information on the contents of the book, please download the pdf below.