Logitech 915-000259 Harmony 950 Universal Remote Manual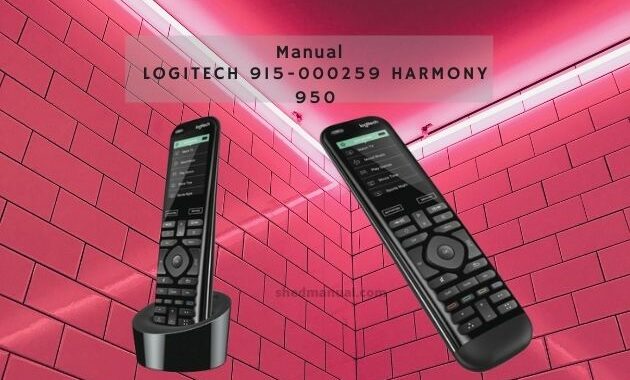 You don't need to worry if your remote is lost, now there is a universal remote from Logitech that will solve the problem. Since you're looking for the Logitech 915-000259 Harmony 950 manual, we've got you covered.
The Logitech 915-000259 Harmony 950 manual contains how to install, how to charge the battery, how to use, and troubleshooting if an error occurs. All are complete in the manual. Here we provide a snippet so that you know a little what is in the pdf manual that we attach.
Install the Harmony remote control.
Connect the remote to a computer or a Mac.
Go to setup.myharmony.com to get the desktop program.
Complete the setup by following the instructions.
The Harmony remote should be charged.
Place the remote in the charging station and plug it in.
How to use your remote
Clock/Battery
Toggle between the clock and the battery meter by tapping. The clock will be shown by default. The battery meter will automatically appear if the battery level falls below 20%.
Activities.
To go to the Activities Home Screen, press the Activities "soft button." A list of all your Activities will appear.
Devices.
To go to the Devices Home Screen, press the "soft button" on the device. A list of all your Home Entertainment and Home Control devices will appear.
Gestures and Gesture Suggestions
Swiping down from the top of any screen while an Activity is ongoing will bring up the gesture screen. Simple taps and swipes will change the volume, skip ahead or backward, pause and play, and other features connected to the current Activity. To view what gestures are available for each Activity, tap the button at the top.
Troubleshooting
Troubleshooting hints for beginners To fix problems, tap Help on the touch screen.
MyHarmony and the Harmony remote do not interact.
Double-check the USB cable's connection.
Avoid using a USB hub.
Try using a different USB port.
Reset the remote by pressing and holding the Off button for 15 seconds or until the Logitech logo displays on the screen.
There is no command for any device that is not mentioned in the MyHarmony app or on the Harmony remote.
Double-check the entries for the manufacturer's name and model number.
Learn how to use the Harmony remote's infrared learning capability.
Visit support.myharmony.com/950 for more information.
We think you've got the idea from the snippet above. To read the complete manual, please download the Logitech 915-000259 Harmony 950 pdf manual below.