Manual Ultrean AF0402 6 Quart Air Fryer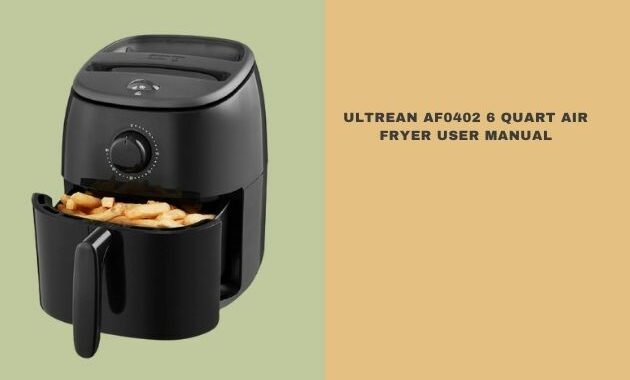 The Ultrean AF0402 6 Quart Air Fryer user manual will help you make good use of this cookware in one simple, easy-to-read document. 
Surely you are very happy to buy Ultrean AF0402 6 Quart Air Fryer because you will be able to cook healthy and delicious food. It has a good design, many features, this is the best tool.
In order to be able to use the air fryer properly you need knowledge about this cooking utensil. You have to know the various features that exist, so that the food will be healthy and delicious.
With the Ultrean AF0402 6 Quart Air Fryer user manual, this useful document will show you the ins and outs of this air fryer. In order not to be at length, here we provide a snippet of the pdf guide document that we provide and you can download.
Contents
Important Safeguards
Before first use
Using the appliance
Settings
Cleaning
Storage
Environment
Guarantee and service
Troubleshooting Caution
Ensure that appliances are placed on a horizontal, even and stable surface.
This appliance is designed for household use only. It is not suitable to be used commercially such as for kitchens, farms, motels, and other non-residential environments.
The warranty is invalid if the appliance is used for professional or commercial purposes, or if it is not used according to instructions. ( Never use the appliance when the plug is damaged.)
The appliance needs approximately 30 minutes to cool down before it is safe to handle or clean.
Save these Instructions.
Settings
This table below will help you select the basic settings for the ingredients.
Note: Keep in mind that these settings are estimated settings only. As ingredients differ in origin, size, shape and brand, we cannot guarantee the best setting for your ingredients. Because the Rapid Air technology reheats the air inside the appliance instantly. Pulling the pan briefly out of the appliance during hot air frying barely disturbs the process
Tips
Small ingredients usually require a slightly shorter preparation time than larger Ingredients.
A larger amount of ingredients only requires a slightly longer preparation time, a smaller amount of ingredients requires a slightly shorter preparation time.
Shaking smaller ingredients halfway during the preparation time optimizes the end result and can help prevent uneven fried ingredients.
Add some oil to fresh potatoes and fry your ingredients for another few minutes for a crispy result.
Do not prepare extremely greasy ingredients such as sausages in the air fryer.
Snacks that can be prepared in an oven can also be prepared in the air fryer.
The optimal amount for frying crispy fries is 500 grams.
Use pre-made dough to cook snacks quickly and easily. Pre-made dough also requires a shorter preparation.
Above is an excerpt from the Ultrean AF0402 6 Quart Air Fryer pdf file guide. To read the full version of the guide, you can press the download button that we provide below. That's all we can provide, hopefully you can use this air fryer well, durable and long lasting. Take care of yourself, and stay healthy.